This post may contain affiliate links. Thank you for your support! For more information, please visit our Privacy Policy.
As a parent, you want to show your child's teacher how much you appreciate all they do. One way to do that is by giving them a gift they'll actually use – and these free printable gift tags make it easy! Just print out the tags, attach them to any teacher-approved gift, and you're good to go!
Teachers work hard – really hard. For as much as they do and as important as they are, they are sadly often underpaid and under appreciated – yet they show up day after day to try and make a difference in our children's lives. So this holiday season, why not show your child's teacher how much you appreciate all they do with a thoughtful (and useful) gift?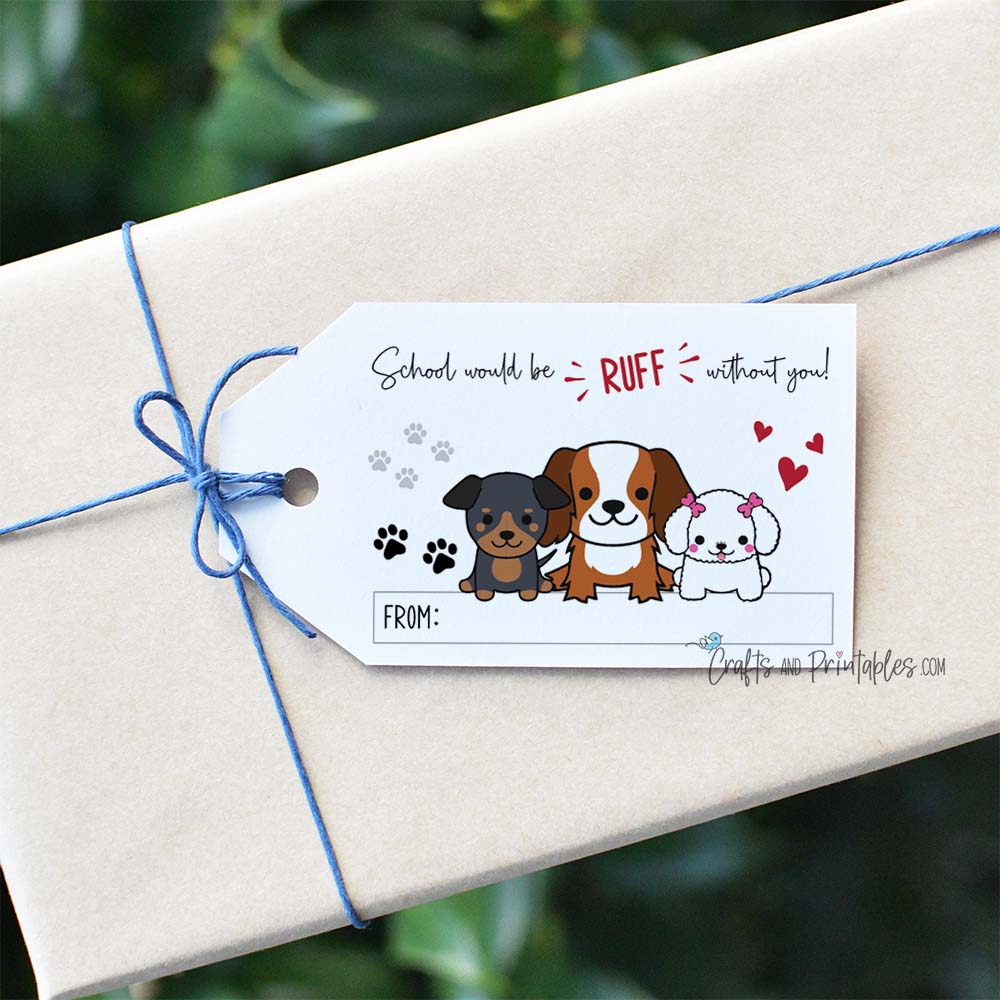 And once you have the perfect gift picked out, these free printable gift tags for teachers make it easy to add a personal touch. Just print out the tags, attach them to any teacher-approved gift, and you're good to go!
5 Best Gifts for Teachers (that they'll actually use!)
As a parent, you want to show your child's teacher how much you appreciate all that they do. But what sort of gift will really make their day? We've put together a list of the five best gifts for teachers that are sure to please. And the best part is, they're all under $25!
1. A Gift Card
Gift cards may seem like an impersonal present, but when it comes to teachers, they can be one of the best gifts you can give! Think about it – with a gift card, the teacher can get exactly what they need (or want) without having to worry about returning anything. And since most teachers spend their own money on supplies for their classroom, a gift card is a great way to help offset those costs. Not sure what kind of gift card to give? Here are some ideas:
Amazon Gift Card: Amazon has just about everything a teacher could want, from school supplies to books for their classroom library. Plus, with Amazon Prime, they can get their gifts delivered quickly and for free!
Visa Gift Card: A Visa gift card can be used anywhere that accepts Visa, which means the teacher can use it at any store or online. This makes it a great option for teachers who like to shop around or who need to purchase supplies from multiple places.
Target Gift Card: Target is another great option for teachers because they offer a wide variety of items, from classroom supplies to home goods and more. Plus, with Target's REDcard program, teachers can save an additional 5% on every purchase!
Walmart Gift Card: Walmart is a go-to spot for many teachers when it comes to buying supplies for their classrooms. With a Walmart gift card, the teacher can get everything they need all in one place – and at unbeatable prices.
2. A Classroom Supplies Gift basket
Every teacher knows that there is never enough time or money to buy all the supplies they need for their classroom. So why not put together a gift basket full of all the things they need?
Here are some ideas for items to include:
Stationery and Notepads
Every teacher needs plenty of stationery and notepads to help them stay organized and take down important notes. Include a few different colors and types of notepads, as well as pens, pencils, erasers, and other writing supplies.
Art Supplies
Classroom art projects are always more fun with plenty of supplies to go around. Crayons, markers, glue, scissors, and construction paper are all great options. You could also include a set of paints or coloring books.
Office Supplies
From staplers to paper clips, there are so many office supplies that teachers use on a daily basis. A few sets of highlighters, post-it notes, binder clips, and rubber bands would be much appreciated. You could also consider adding a small tabletop fan to help keep the classroom cool during warmer months.
Cleaning Supplies
Teachers are always in need of cleaning supplies to help keep their classrooms clean and tidy. Paper towels, a can of Lysol, antibacterial cleaning wipes – especially during the winter months when cold and flu season is in full swing.
3. A heartfelt note of appreciation
Sometimes, the best gift you can give is something that money can't buy. A heartfelt note of appreciation is a great way to show your child's teacher how much you value all that they do. You could even include a photo of your child with their teacher to make it extra special. If you or your child are stuck on what to write, we have a post on 15 Ideas for Teacher Thank You Cards.
4. A subscription to a Teacher resource website
There are tons of great websites out there that offer resources, lesson plans, and more for teachers. A subscription to one of these sites would be a great gift that the teacher can use all year long.
Teacherspayteachers.com offers over 3 million teaching resources, from lesson plans to worksheets to classroom decor. Teachers can buy and sell resources on the site, as well as access a huge library of free resources.
5. A classroom subscription box
Classroom subscriptions are a great way to help teachers keep their students engaged and excited about learning. Whatever the teacher in your life is interested in, there's sure to be a subscription box for them!
Some popular options include:
More Teacher Gift Ideas
We have a bunch more teacher gift ideas including some DIY gifts in our Happy Teacher Appreciation Week 2022 post.
We hope this list has inspired you with some gift ideas for the teachers in your life! Showing our appreciation for all they do doesn't have to be expensive or complicated—sometimes the simplest gifts are the best gifts of all.