This post may contain affiliate links. Thank you for your support! For more information, please visit our Privacy Policy.
This is a fun and easy lighthouse craft idea for kids that is easily made from an empty toilet paper roll or cardboard tube, paper plate, craft paper, paint and some glue.
Imagine that you are the captain of a ship exploring new seas that you have never sailed before.
The seas are rough and it's the middle of the night. You saw land on the horizon earlier in the day, but now you have no idea how close the shore is.
You know that there is a real chance you could damage and sink your ship if you get too close and run across rocks.
Luckily, you see a stream of light from a tall tower, giving you notice of where the rocky shore is!
What is a lighthouse?
A lighthouse is a tall, narrow structure built on the shoreline to emit a bright light from a lamp at its top. It is a tower with a very important function.
Its main purpose is to warn boats of danger, like shallow waters or rocky land or a coastline they wouldn't be able to see at night. The light can be seen for many miles out to sea and helps guide boats safely to shore.
Many lighthouses are now obsolete, but they remain popular tourist attractions. Some of them have been turned into museums or private homes.
Fun facts about lighthouses
Lighthouses are often associated with coastal areas, but they can also be found in other environments such as rivers and lakes.
Did you know that there is a lighthouse on every continent except for Antarctica?
More lighthouses exist in the United States than in any other nation.
In the United States, Michigan has the most lighthouses with about 140. Maine comes in second with about 80.
Women have held lighthouses since the 19th century, one of the first government jobs open to them in the United States.
Who made the first lighthouse?
Lighthouses date back thousands of years.The first known lighthouse (and undoubtedly one of the most famous), was the Lighthouse of Alexandria built in Pharos, Egypt by Ptolemy I and his son Ptolemy II.
It was finished in 280 B.C. and thought to have been about 450 feet high! An incredible structure, you can see why it is considered one of the Seven Wonders of the Ancient World.
Can you imagine what it might have looked like?
Unfortunately, it was eventually destroyed by invaders and earthquakes during the 1300s.
What is the oldest existing lighthouse in the world?
The Tower of Hercules lighthouse, which dates back to Roman times and is located on a headland near the city of La Coruna on Spain's northwestern coast, is probably the oldest remaining lighthouse.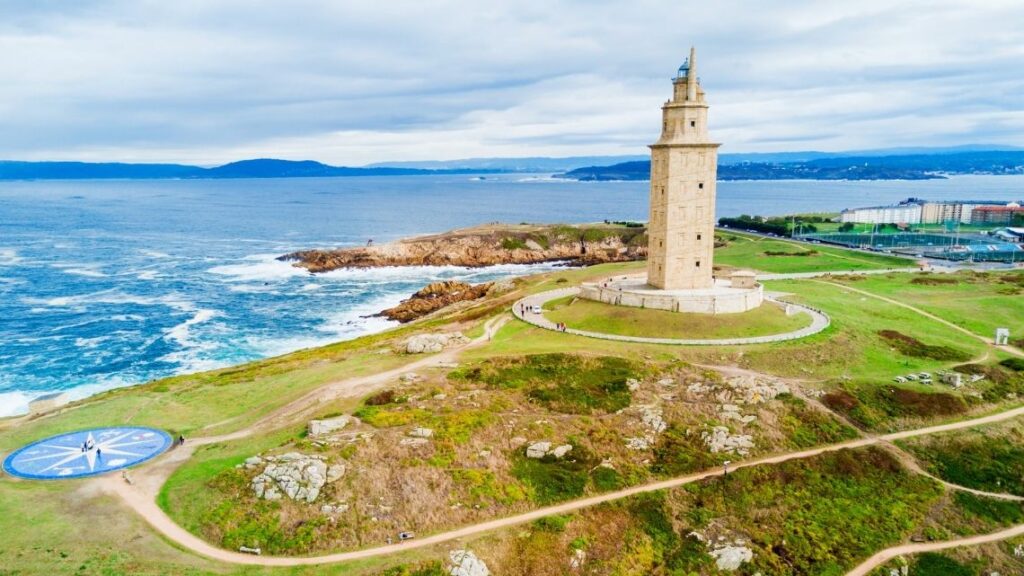 This Roman lighthouse, also known as a pharos, was erected during the second century AD and featured a wooden spiral ramp for fuel to be carried up to the top.
Which is the tallest lighthouse in the world?
The Lighthouse of Jeddah in Saudi Arabia, completed in 1990, may be the tallest lighthouse in the world. It stands at 436 feet tall and the lighthouse's orb topped tower has become an icon of the city.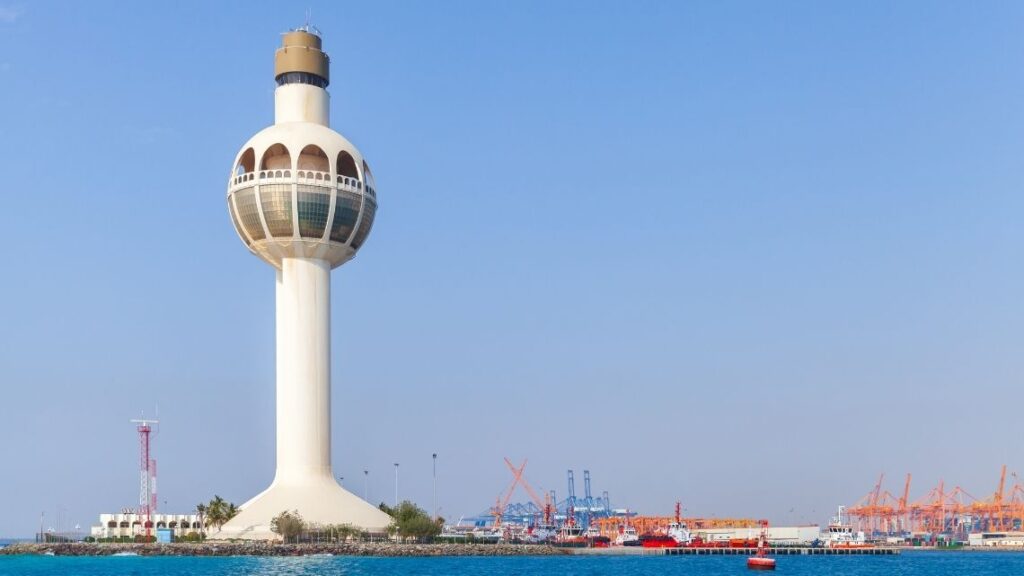 Do all lighthouses look the same?
Although a tall, white conical tower with red candy-cane stripes is what usually comes to mind when we think of a lighthouse, there are actually many different ways a lighthouse can look.
A lighthouse's design features are often related to where it is located.
For example, if it is on a very high cliff, the lighthouse might not be as tall as if it were located on a flat jetty.
To see what we mean, check out these 7 of the Most Beautiful Lighthouses in the United States.
Are lighthouses still manned by people?
The very first lighthouses burned coal or wood to create a "fire beacon", which was a simple warning light. Some even used oil lamps or candles.
But since these didn't last long or could easily be blown out, a lighthouse keeper needed to climb all the way up the tower and check on the lanterns throughout the night.
This is why in the beginning, a lighthouse keeper had to live at the lighthouse to make sure there was always a light shining during the night.
Nowadays, all lighthouses in the US are automated, except for one very special lighthouse.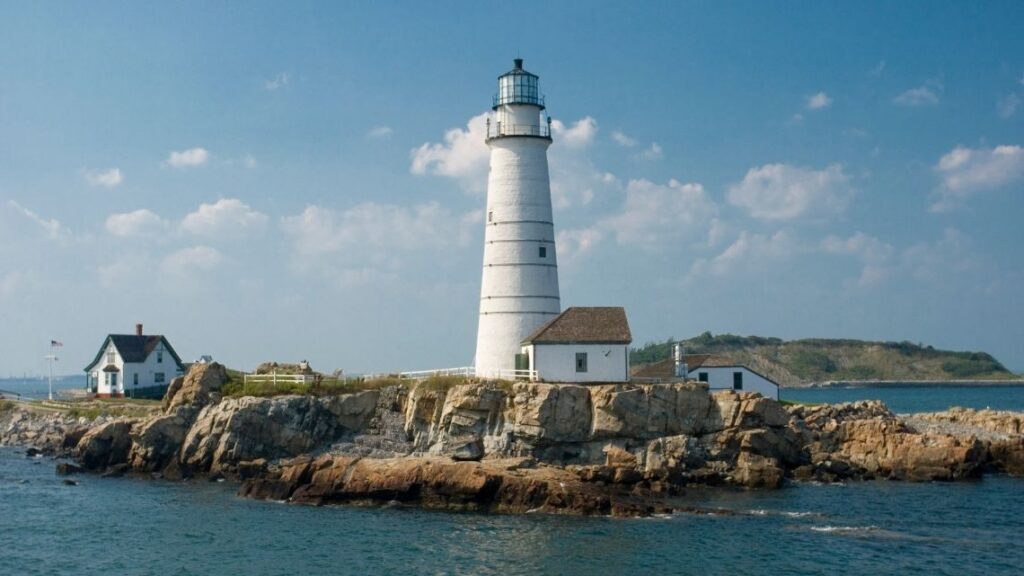 Boston Light is the oldest station in the United States and because of this, Congress has declared that this lighthouse always be staffed with a lighthouse keeper.
Paper Plate Craft: Easy Lighthouse Craft Idea for Kids
Our paper plate craft is a fun summer activity or school project. It's a great addition to any homeschool curriculum when learning about lighthouses.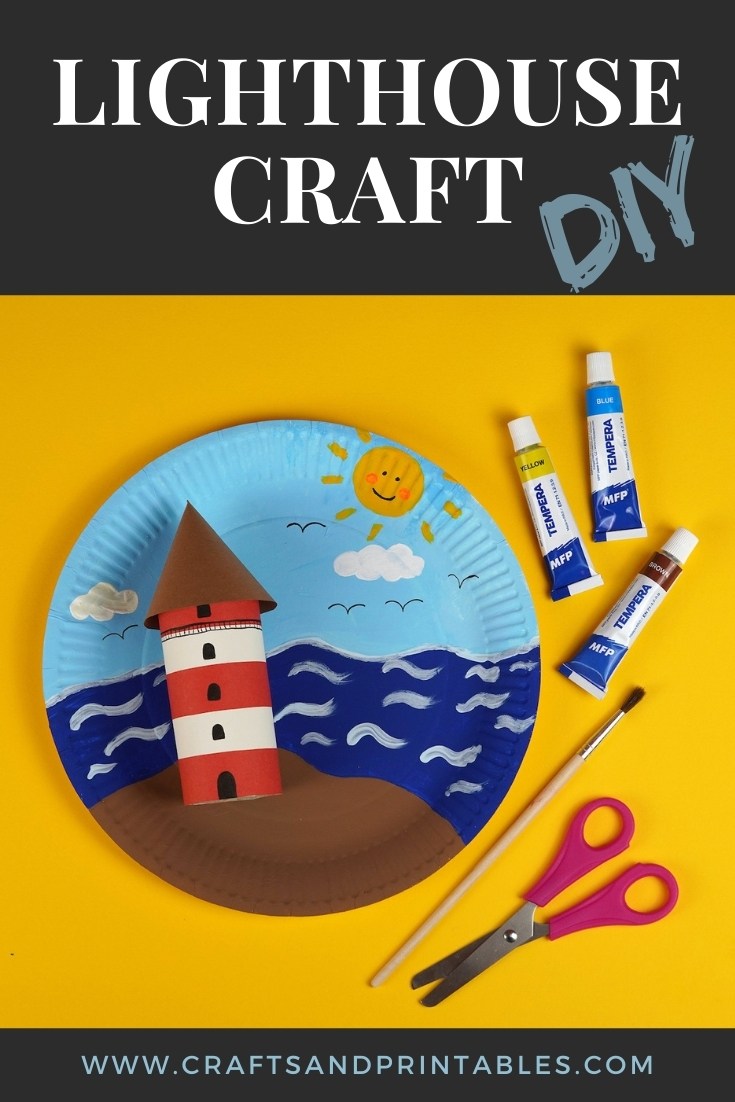 This is an easy light house craft idea that can be completed by children of all ages.
Recycle the cardboard tube from an empty toilet paper roll. If you don't have one, you can use a plastic water bottle, or a plastic cup.
The best part about lighthouse crafts for preschoolers like this one is that it doesn't require a lot of difficult skills and each one will turn out differently according to the child's creative flair.
You can encourage some creative freedoms by having the children change the template in their own ways like:
change the colors of the lighthouse
add fish or dolphin to the water
paint in some rocks along the shore, or even better, glue real sand or pebbles!
add some charm by drawing in a lighthouse keeper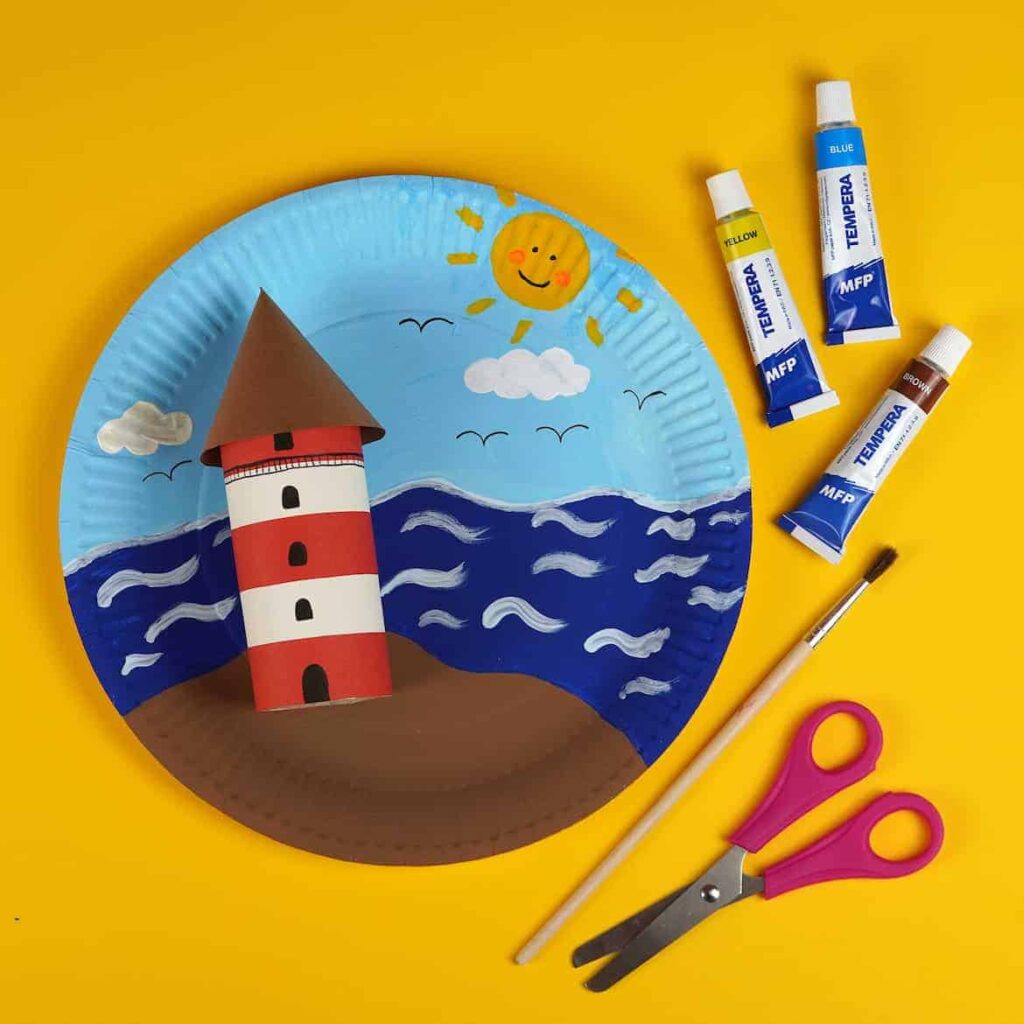 Materials
white paper plate
empty toilet paper roll 
red, white and brown construction paper
dark blue, light blue, white, brown, yellow, and black acrylic paint
paintbrushes
glue stick
scissors
a black and a pink  or red marker
pencil
Note: any kind of paint meant for paper can be used, even these paint pens would work well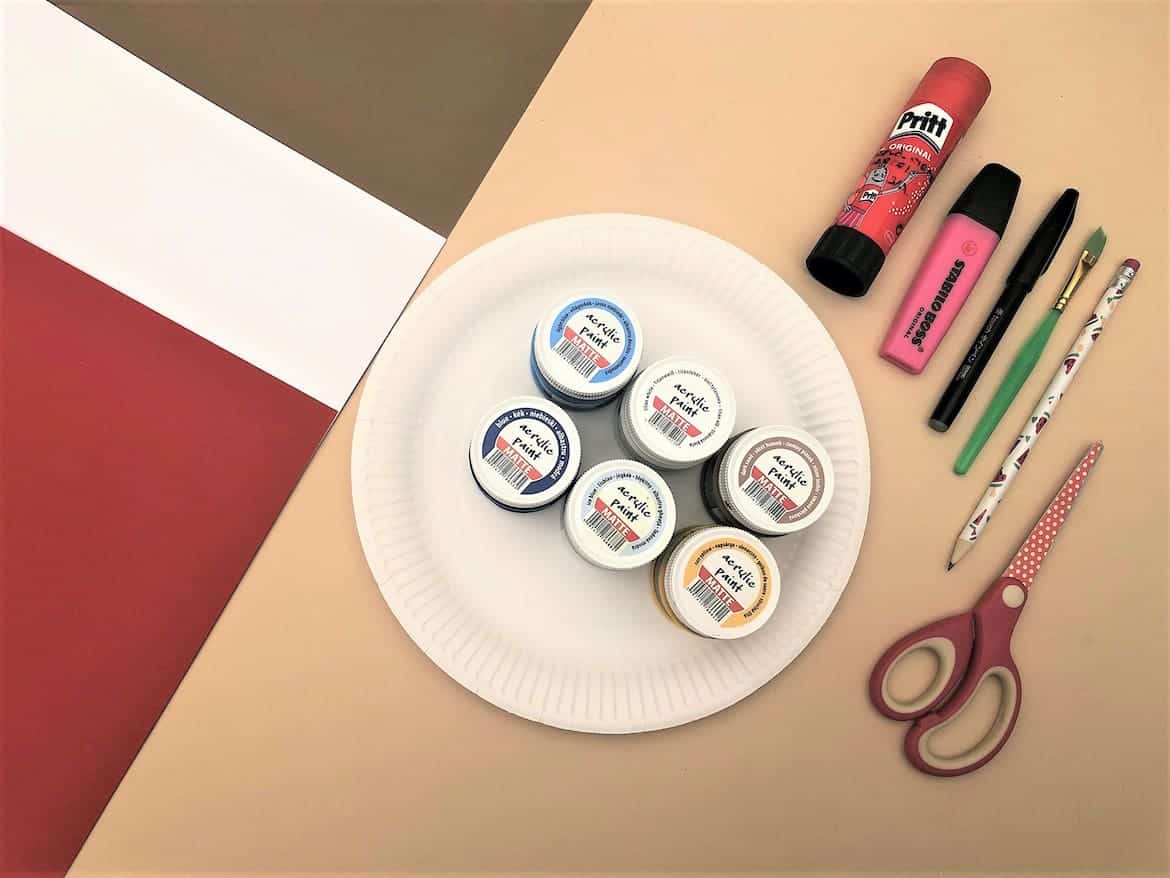 Directions
To start, paint the bottom of the paper plate brown, this will be the ground.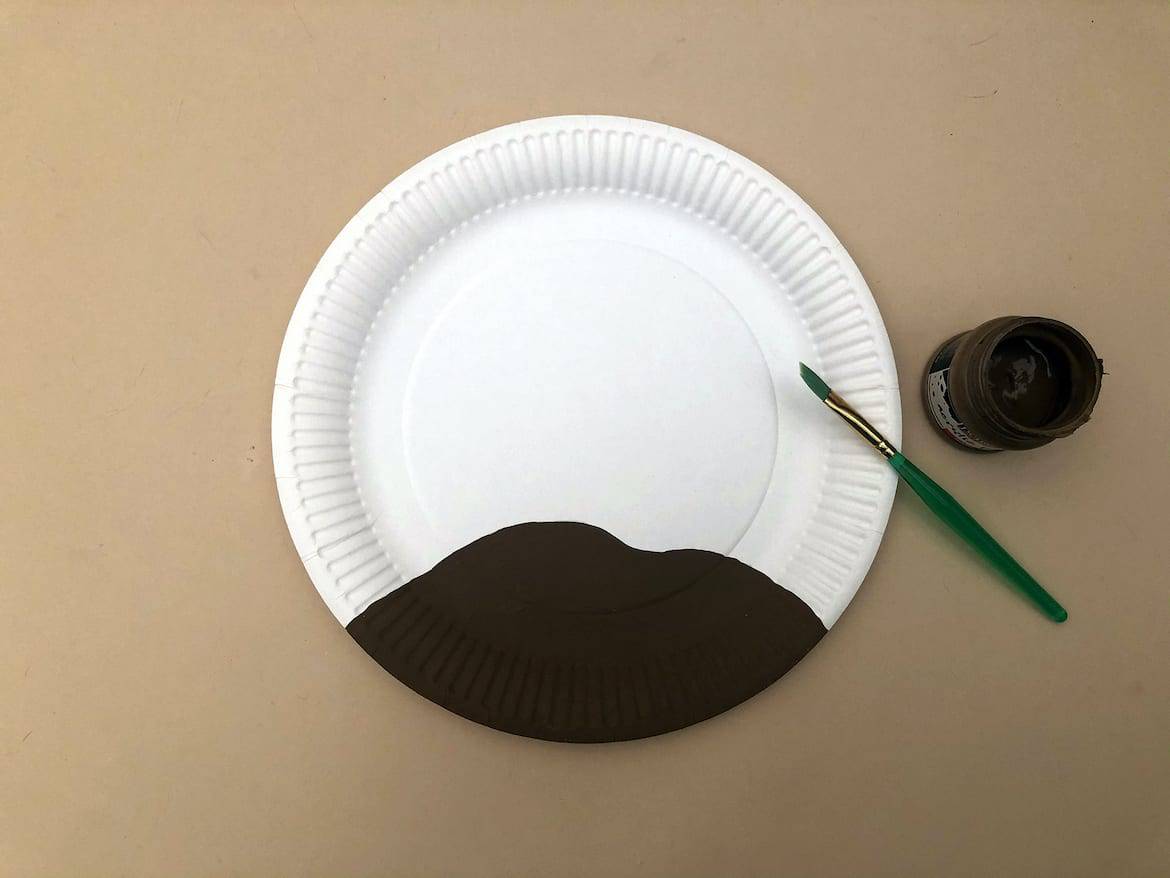 Then, paint a wavy sea above it in dark blue.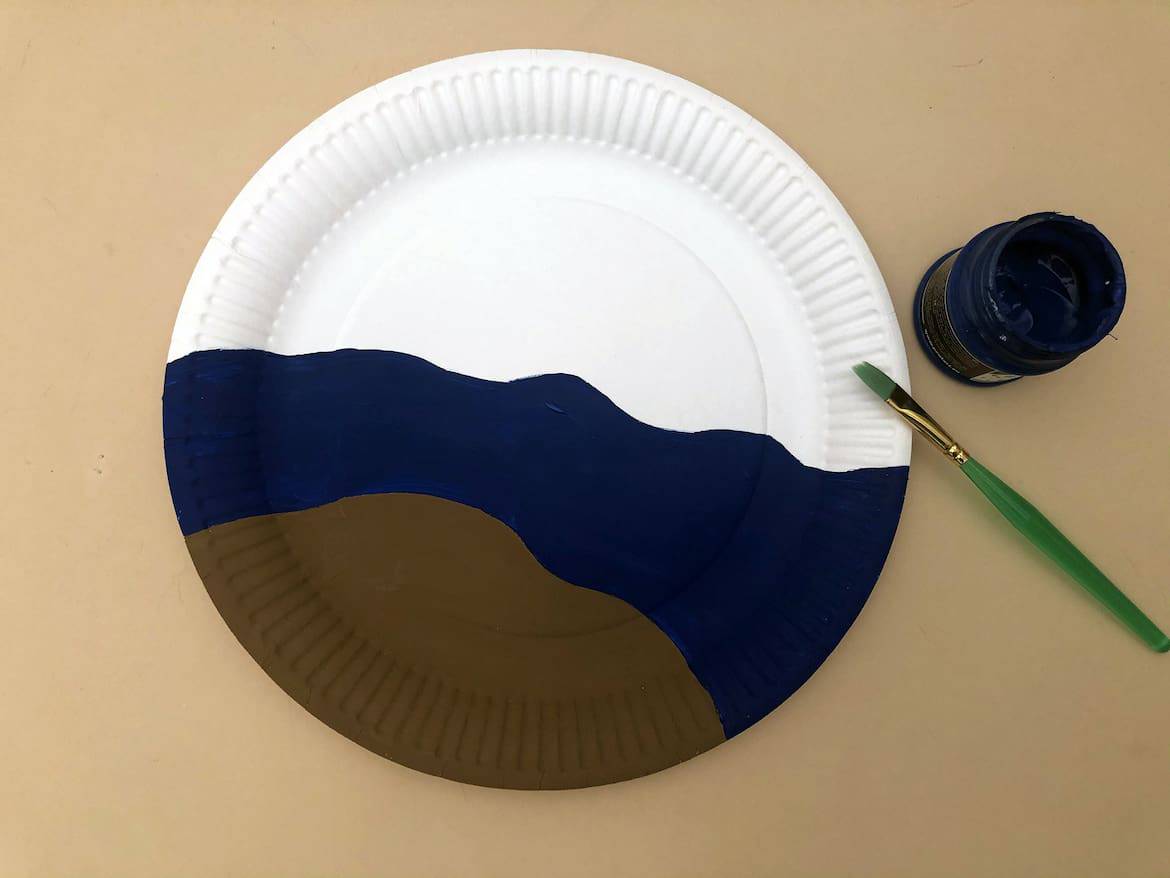 Next, paint the waves and sky in a lighter blue.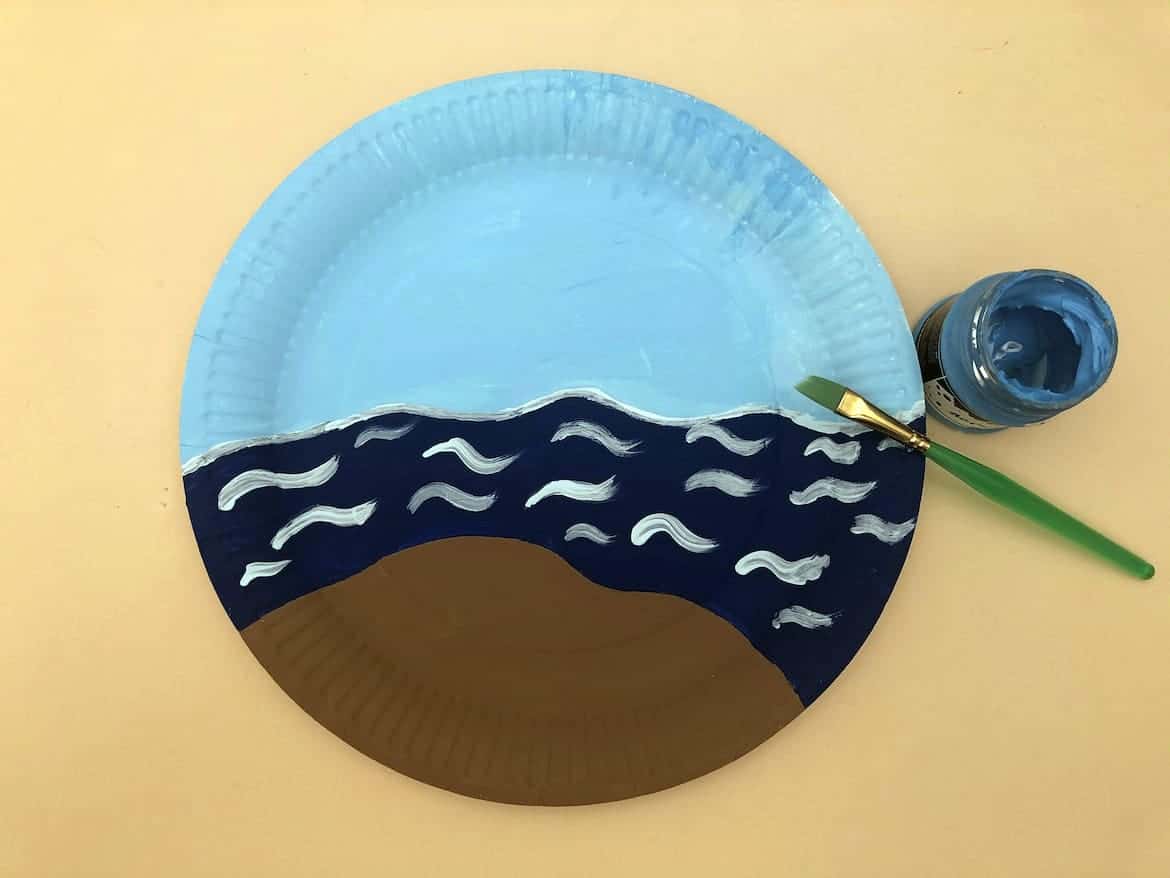 Paint clouds with white paint and then a happy sun off to one side with yellow paint.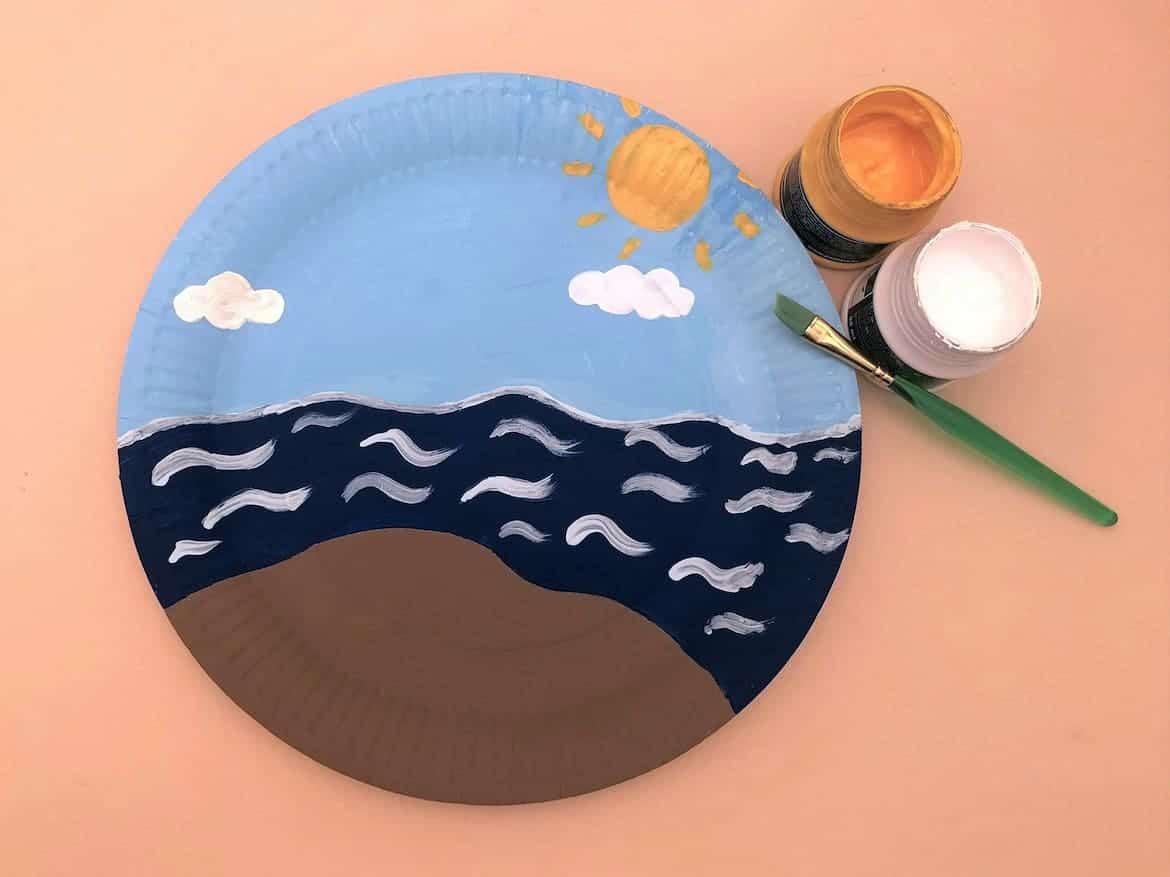 Set this aside to dry and grab your empty toilet paper roll.
Cut a piece of white construction paper about 6″ wide by 4″ tall (yours might be a different size than mine, so be sure to measure yours to see if this will fit). Glue it in place.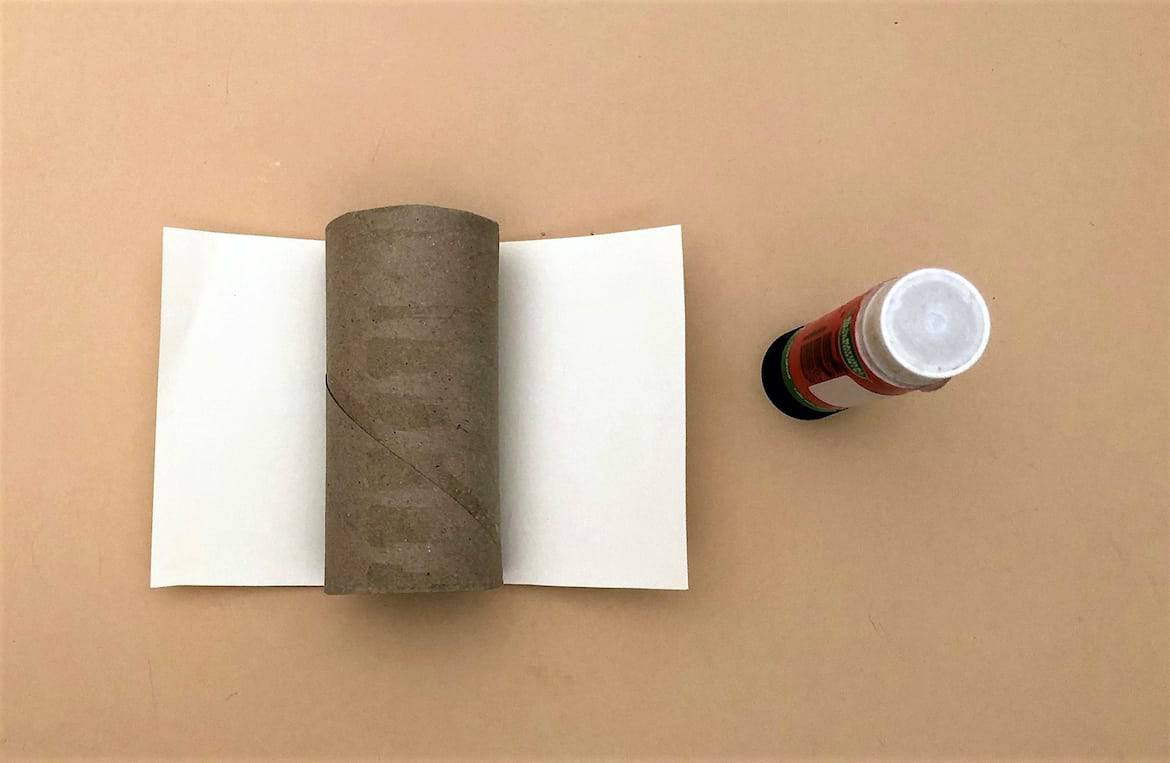 Next, cut 3 equal strips of red paper about 1″ tall and 6″ wide and glue them onto the toilet paper roll, equally spaced.
The easiest way to do this is to place one on each end and then put the last one in the middle, as best as you can.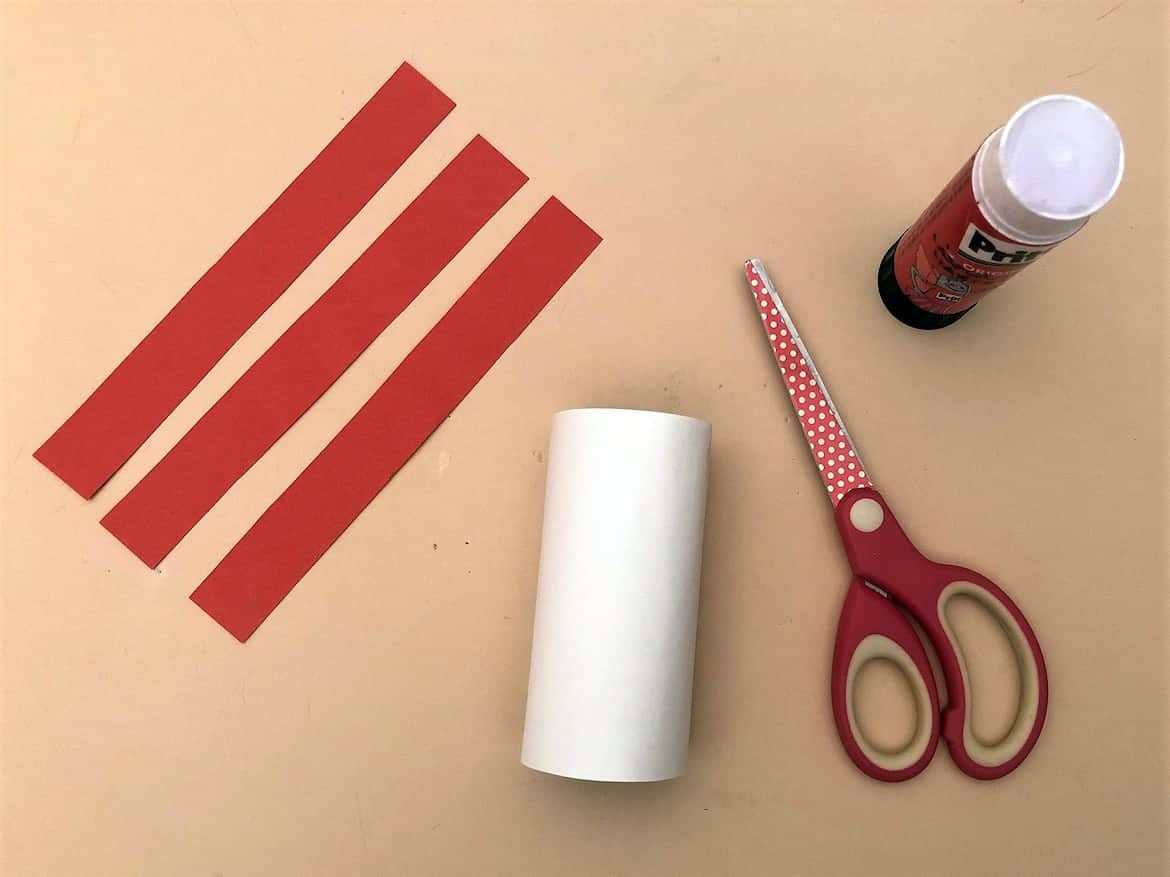 On the brown construction paper, draw a semi-circle (about 6″ in diameter).
You can trace your protractor from school or a bowl to draw a circle that you then cut in half.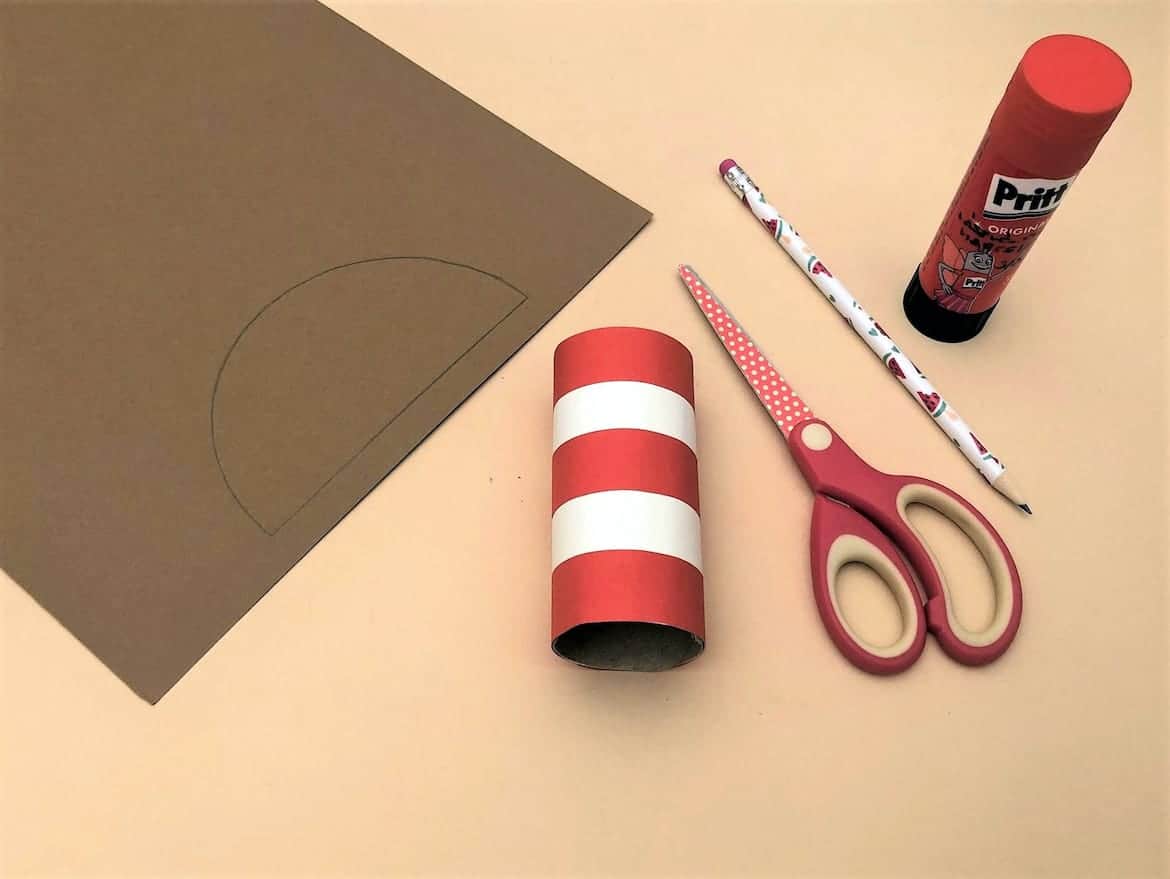 Cut it out and form it into a cone shape to glue on top of the roll.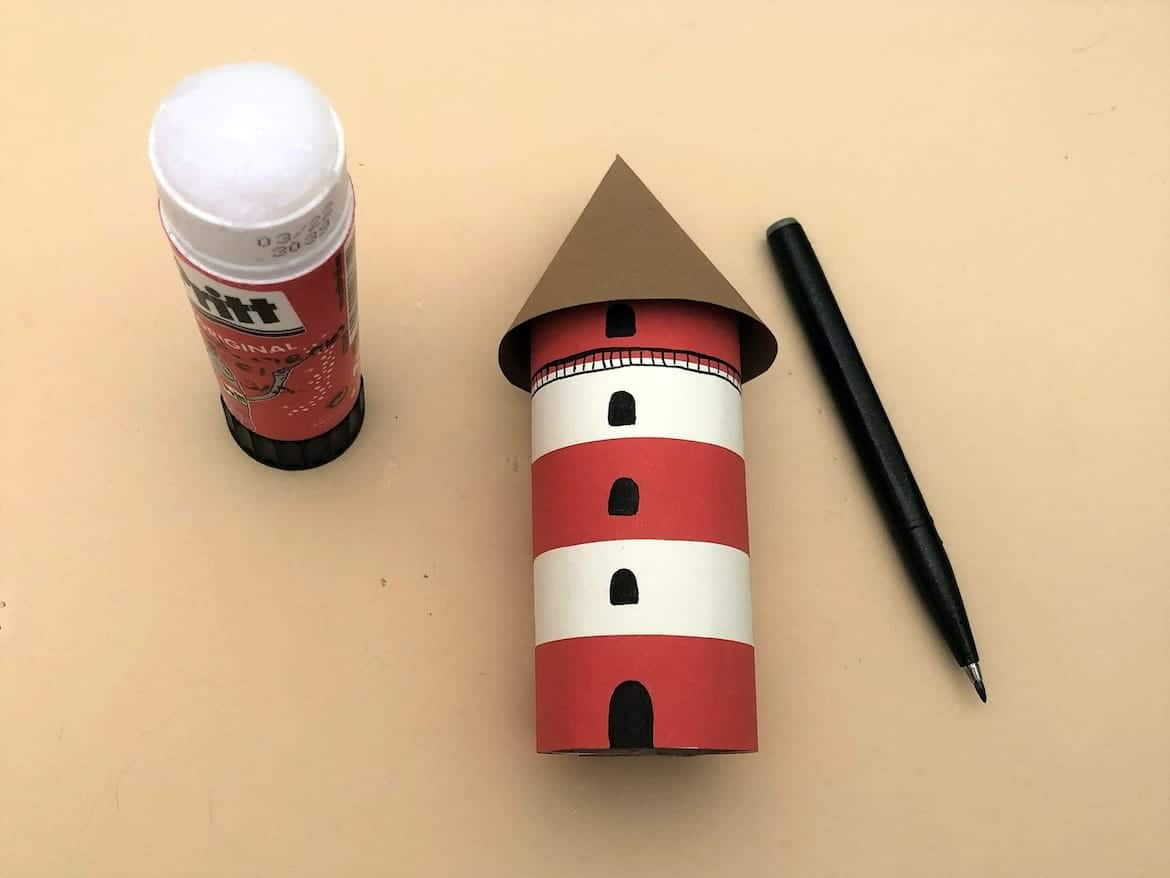 With a black thin tip marker, draw the door, windows and railing of the lighting tower.
Now check to see if your paper plate landscape painting is dry. If so, draw the eyes and mouth on the sun.
Use a pink or red marker (or paint!) to make cute round cheeks. Don't forget to draw some birds flying in the sky.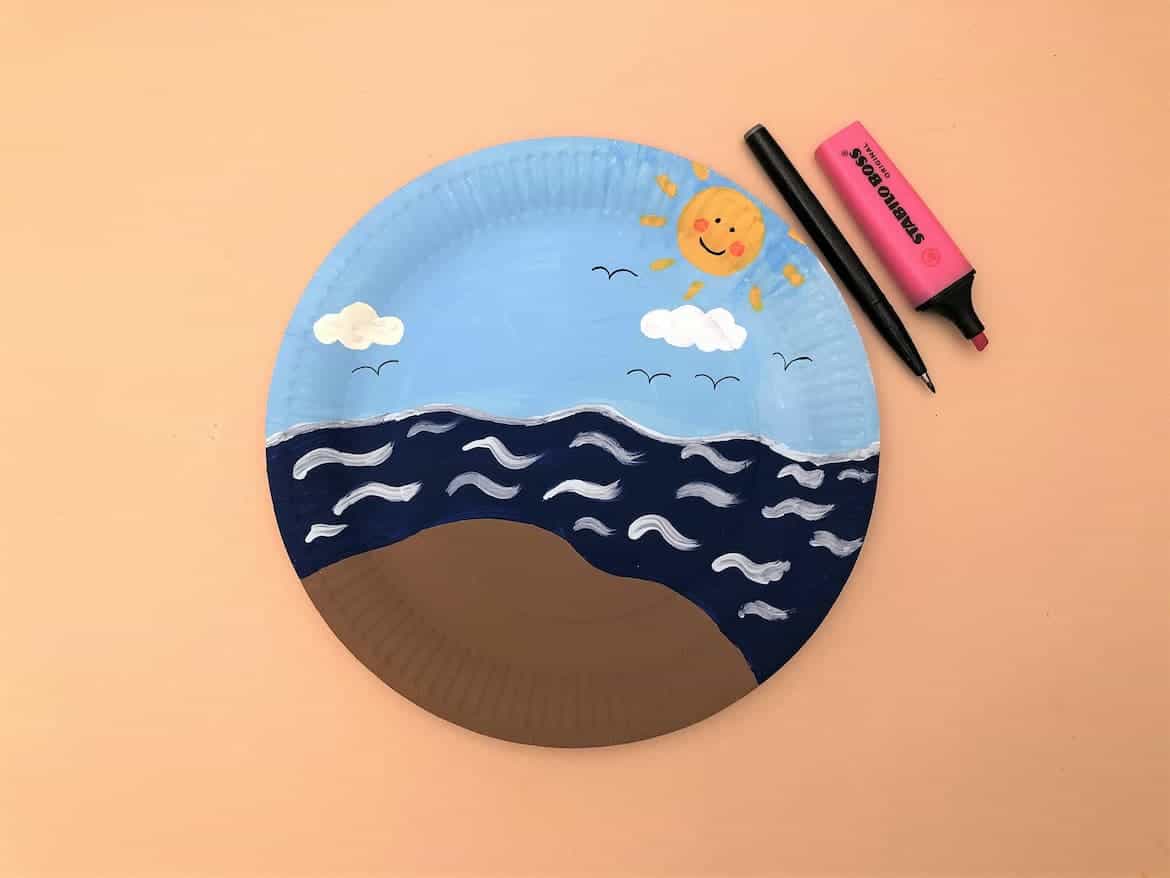 Finally, glue the finished lighthouse onto the paper plate.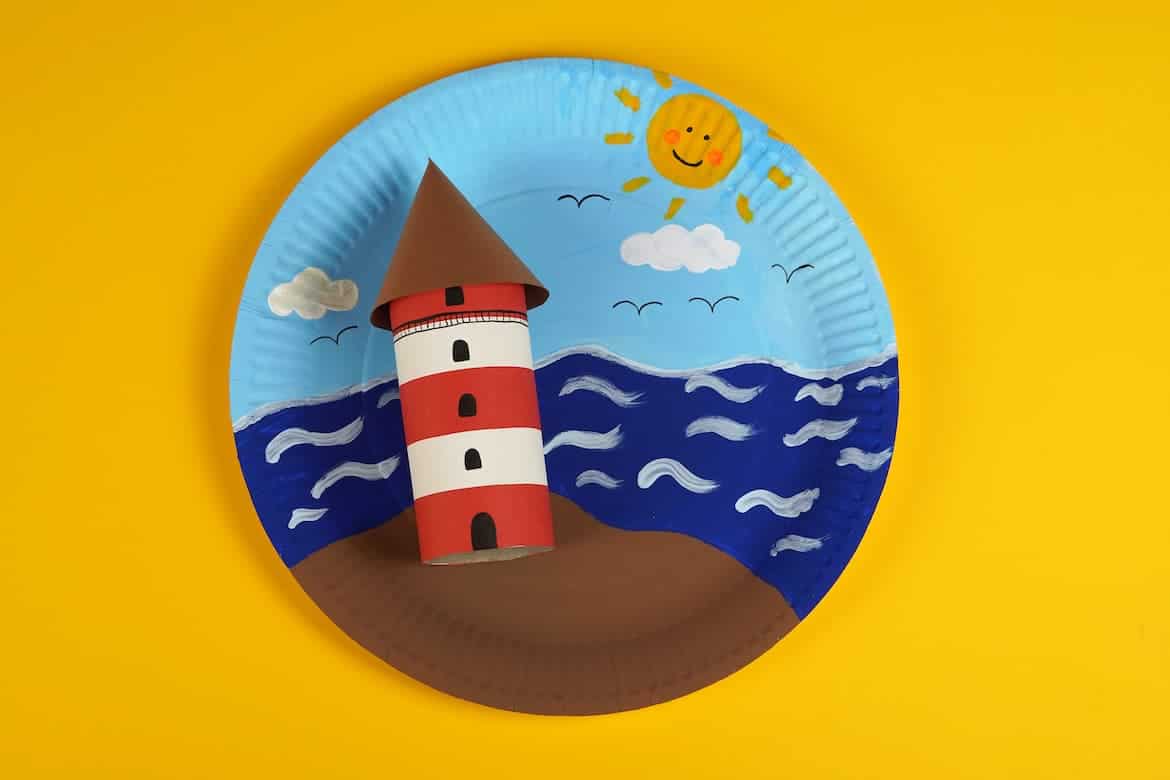 You're finished – easy peasy! Now you can enjoy your homemade lighthouse.
What are some other free lighthouse craft ideas?
Do you have more free printables and crafts for kids?
Yes, we do! Keep your child entertained and learning with our fun activities for kids like: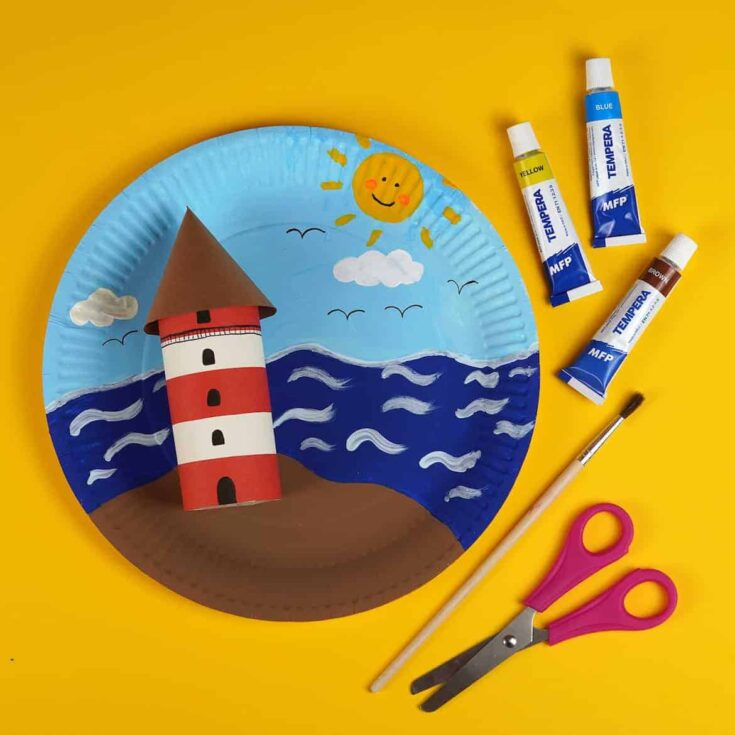 Yield:

1
DIY Lighthouse Craft for Kids
This is a fun and easy lighthouse craft idea for kids that can be made from an empty toilet paper roll, paper plate, paint and some glue.
Materials
1 paper plate
1 empty toilet paper roll
construction paper red, white and brown
acrylic paint dark blue, light blue, white, brown, yellow, and black
glue stick
markers black and a pink or red
pencil
Instructions
Paint the landscape on the paper plate
Paint the bottom of the paper plate brown or tan to make the ground. Then paint the sea above the ground in blue. Use another lighter blue to paint the waves. Paint the sky blue and then paint clouds with white paint. Add a cute little sun on one side with yellow paint.
Make the lighthouse
Get an empty toilet paper roll and cut a piece of white paper to fit around it. Glue it on. Cut 3 equal strips of red paper and glue them on the paper roll. On brown paper, draw a semicircle, cut it out, make a cone shape and glue it on top of the roll.
Add the finishing touches
With black marker, draw the door, windows and railing of the lighting tower. Draw eyes, mouth and cheekbones for the sun. Draw flying birds in the sky. Finally, glue the lighted tower on the paper plate.
Recommended Products
This post may contain affiliate links. When you click on a link and make a purchase, I receive a small commission for the sale at no additional cost to you. Thank you for letting me share some of my favorite products and finds with you - I appreciate your support by shopping through these links.