This is the first pattern in our How to Make a Plushie series. It's an adorable felt plushie inspired by Jack Skellington from Tim Burton's cult classic movie, The Nightmare Before Christmas.
I love Halloween and I love felt plushies. I had always wanted to create a felt plushie based on Tim Burton's iconic character from 'The Nightmare Before Christmas'. He's an adorable character who has a lot of personality. I finally got around to making it and here it is!
What do I need to make this felt plushie?
This DIY felt plushie measures approximately 4.5″ tall and 3″ wide. Everything is cut from white and black crafting felt and sewn together by hand. The nose and mouth are embroidered using black thread.
The arms have been attached using hot glue, but you could also sew these on if you prefer. Same goes for the collar and heart. Feel free to sew these on instead of using hot glue to attach.
If you'd like to turn this into a cute Christmas tree ornament, you can sew in or glue on a loop of ribbon at the top of the head.
In addition to these supplies, you will need to download and print my free pattern. Just click the download button below to grab the PDF.
You will need Adobe Acrobat Reader to open and print this file. (Don't worry, it's free!)
Can I change the size of the pattern?
Yes, absolutely! To make a bigger or smaller plushie, simply print the pattern bigger or smaller. You can do this by adjusting the "scale" option in the Adobe Acrobat print window. Refer to the below image.
100% means the actual size (or in this case, the intended size of about 4.5″ tall)
Increase this number over 100% to make the pattern bigger
Any number lower than 100% will make the pattern smaller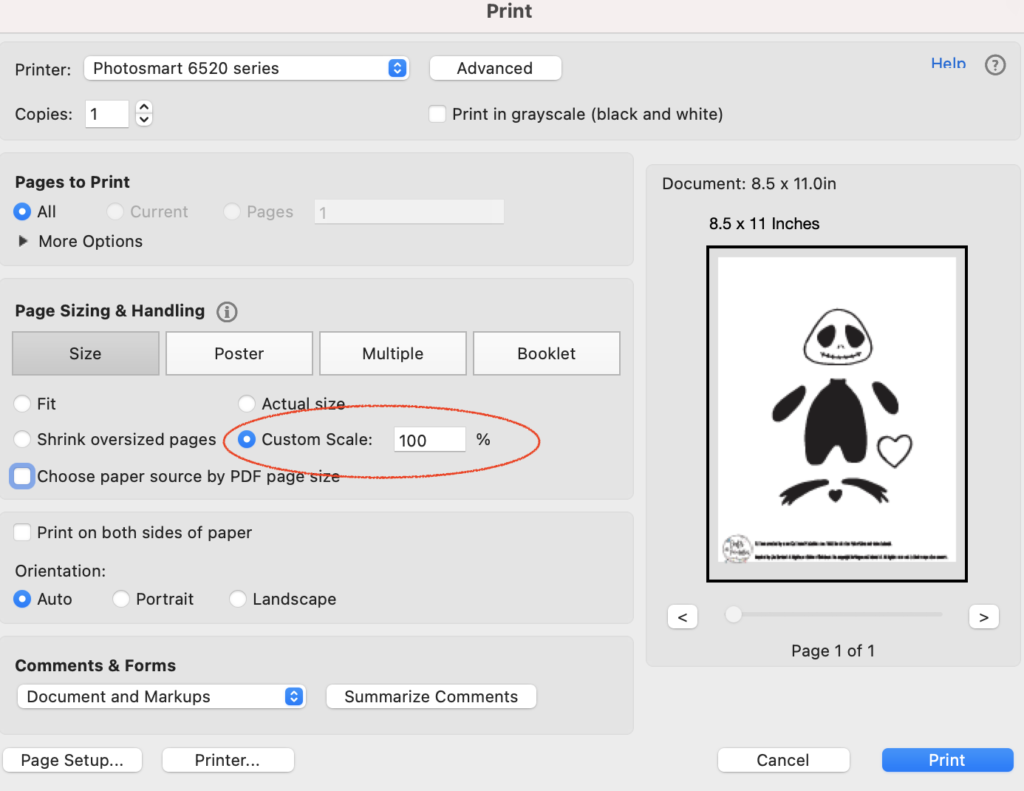 Can I use fabric instead of felt?
Yes, of course! Feel free to switch out the felt for another fabric. You could use cotton, flannel or even fleece!
How do you stuff a plushie?
There really isn't any specific way to stuff a plushie. Start off by using your hands, but on projects that have smaller spaces to fill (like legs), you can use any tool to help push it where you want it to go. I recommend using something pointy, but blunt like a chopstick or the handle end of a paint brush.
Be careful if you choose to use something sharp (like we did with scissors in the video) as you could bust right through or poke a hole. Once you're a pro at stuffing you can use scissors, but for now and to be safe, let's stick with something blunt 🙂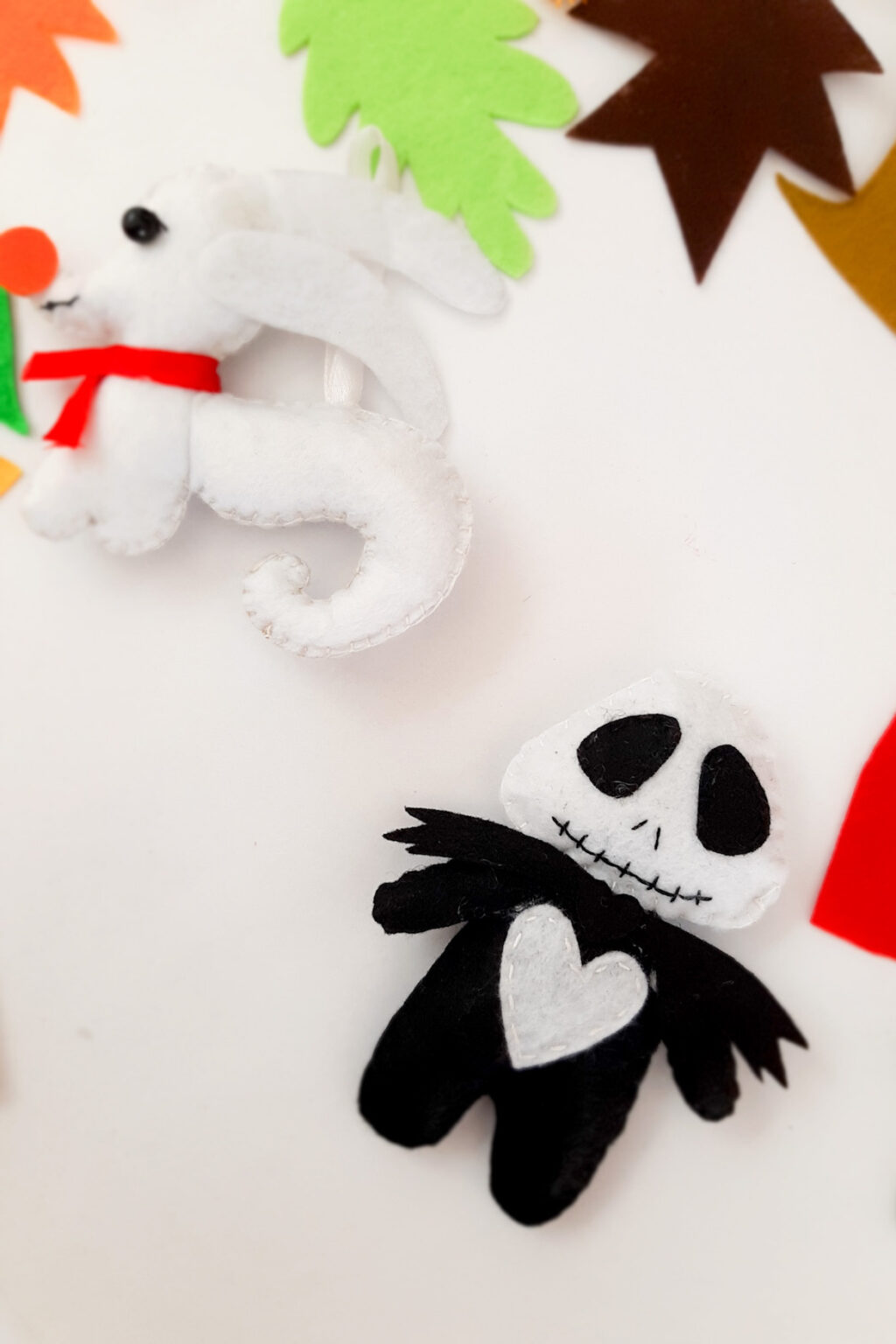 Most people use store bought Poly-fil, but there are lots of alternatives if you don't have that around.
Cotton balls. If you do, I recommend pulling them apart so they are nice and fluffy instead of compact and firm.
Repurpose old pillow stuffing
Use your scrap fabric pieces (You can chop them up into small pieces for a softer filling)
Cut up old t-shirts or towels
Use your imagination!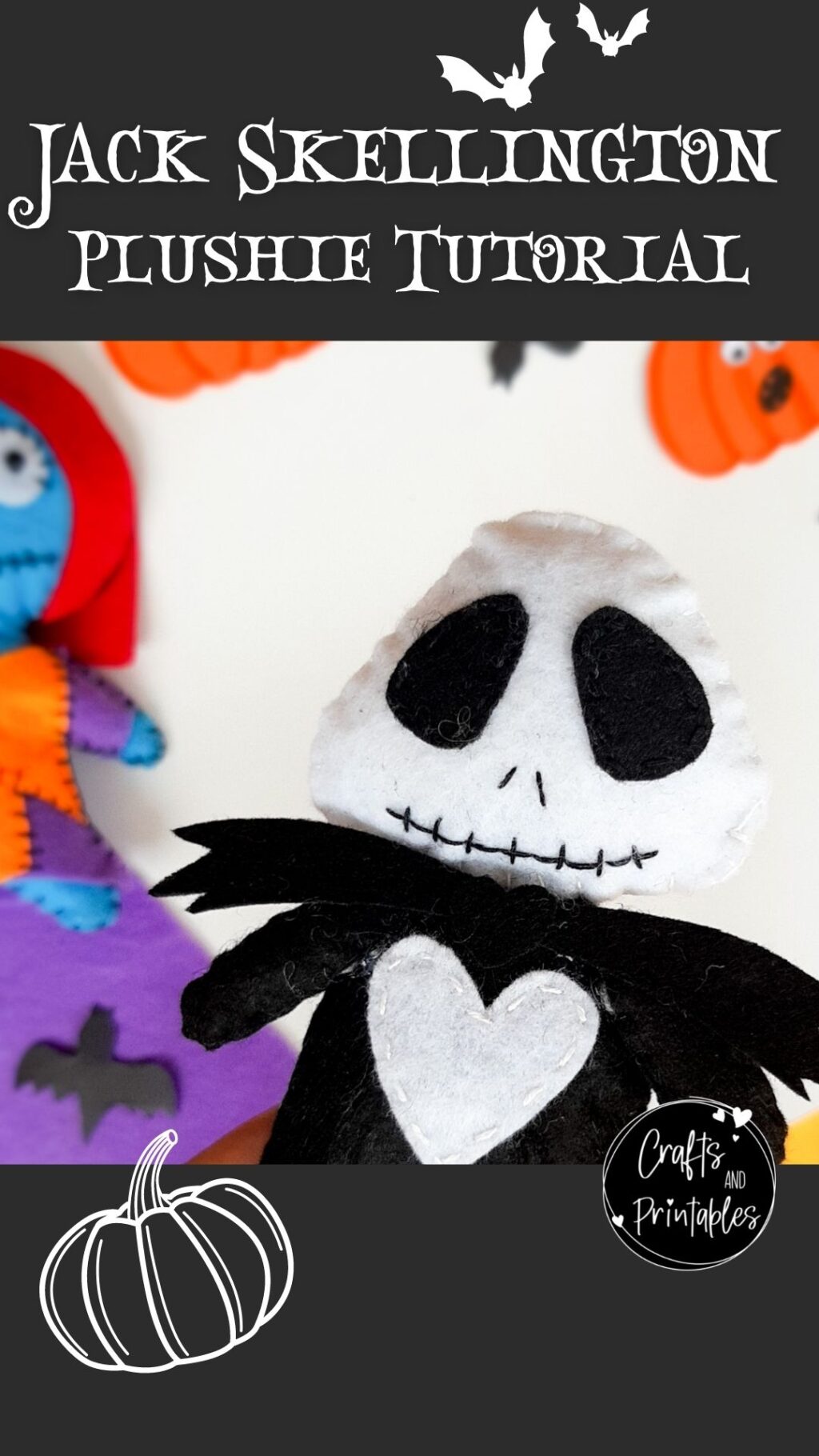 Tip for beginners
If you find that the smaller pieces (like the eyes or the white heart) keep moving around on you while you are trying to sew them on, you can stick them exactly where you want with a teeny amount of craft glue.
I would just place a small dot right in the center of the piece so that it doesn't interfere with your sewing. If you get glue in the area where you want to sew, it may be difficult or impossible to push the needle through, so try not to do this.
Do you have a video tutorial?
Yes, we do! If you prefer to watch a sew along, here is my video showing how to make a plushie Jack Skellington.
Jack Skellington Felt Plushie Tutorial
Yield:

1
How to Make a Plushie Jack Skellington
A Nightmare Before Christmas Jack Skellington inspired felt plushie pattern with step-by-step instructions and sew along video.
Materials
Pattern
Black craft felt
White craft felt
White embroidery floss
Black embroidery floss
Poly-fil Stuffing
Tools
Embroidery needle
Scissors
Hot glue gun
Instructions
Download and print our pattern. Cut out and trace pieces from the appropriate color felt.

TIP: use a disappearing ink pen to draw nose and mouth on one head piece so you know where to stitch. Marks made by this disappearing ink pen will disappear after 24 hours.
Start by sewing eyes to the head using black thread and back stitching around the outer edge.
When finished with the eyes, keep the thread attached and move over from behind to come up at the first nostril. Backstitch the nose and mouth as shown.
Come back through the smile with perpendicular lines. Finish off and set aside.
One one body piece, back stitch the heart on using white thread.
When finished, place the other body piece behind this one and begin joining together using a blanket stitch. Start one side of the neck and work your way around the legs and up the other side.
Stop when you reach the top of the leg/bottom of the white heart and stuff with Poly-fil.
Squeeze together and continue blanket stitch to connect to the spot where you started. Finish off and set aside.
Repeat with both sets of arms. Finish off and set aside.
Join your completed face to the other white head piece. Begin on the right side, just below right eye.
Blanket stitch around top of head to just under left side of mouth. Slide body piece into the opening and hold in place.
Join neck to head using a backstitch (see video if you need help)
Once you've sewn across the neck, pause to fill head with fluff.
Continue with blanket stitch to where you started and finish off.
Use hot glue gun to attach arms, collar and mini heart.
All done!
Notes
Stitches used:
Back stitch
Blanket stitch
Recommended Products
This post may contain affiliate links. When you click on a link and make a purchase, I receive a small commission for the sale at no additional cost to you. Thank you for letting me share some of my favorite products and finds with you - I appreciate your support by shopping through these links.
Check out these other fun crafts
Inspired by Jim Burton's A Nightmare Before Christmas. No copyright infringement intended. All rights reserved to their respective owners.