Looking for memory box ideas? This DIY Memory Box is quick and easy to make, but unique enough to be something that can be given as a gift or cherished in your own home for years.
I recently had a friend confide in me that of all the things she owned, the ones that really mattered were her travel and family vacation photographs because they served as visual markers of her life.
Yet, despite taking thousands of photographs, she hadn't actually printed very many of them.
I realized that a lot of us – including me – fall into that same club. As I travel across the world documenting and sharing my experiences digitally through photographs. Then they quickly end up being organized onto hard drives – never to be seen again.
Even more are saved to my phone, small snapshots of our everyday life. As a matter of fact, I must have taken 100,000 photos the first year of my son's life and still, seven years later, no more than a handful have ever been made it to become prints.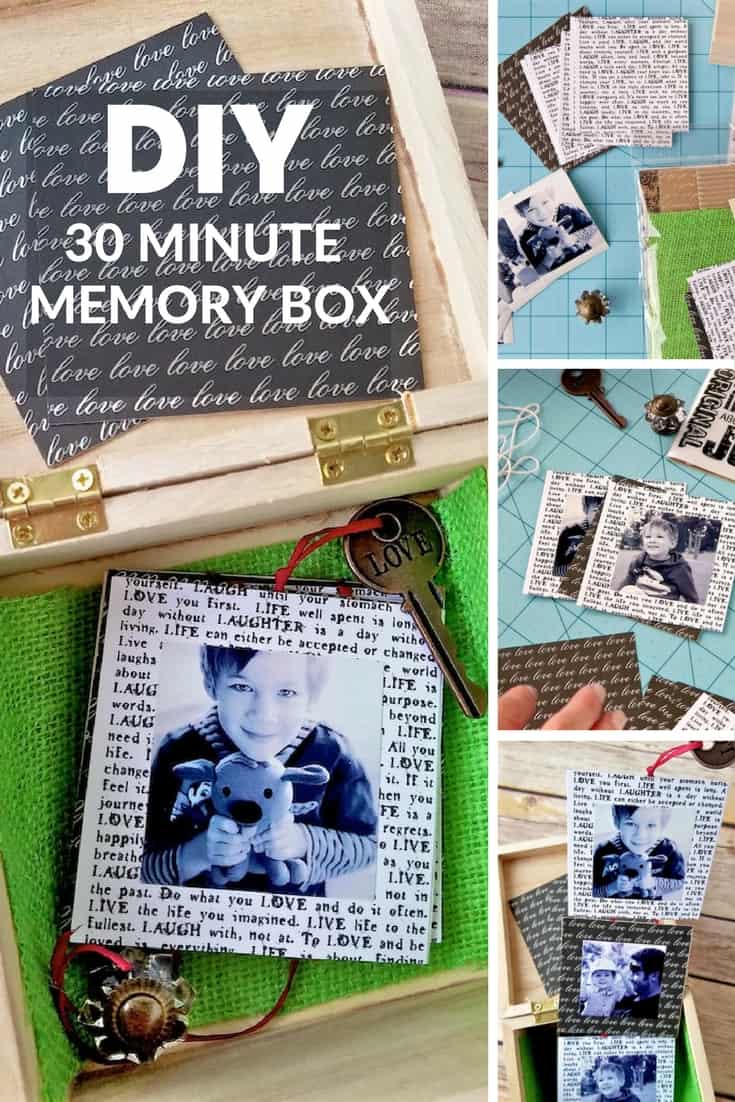 In an effort to change this trend, I created this DIY Memory Box craft project. It's such an easy way to show off your treasured travel and family photos. The best part is that it can be done in about 30 minutes and expanded on later, as you add to your travels.
What can you put in a memory box?
Anything! Not only is it perfect for sorting and displaying your travel memories, it's also great for holding other small trinkets you collect on your travels like shells, coins, bracelets and other mementos. The perfect travel keepsake box to save or give as gifts.
Of course, your keepsake box can be about any topic at all – not just travel. Memory boxes are great for keeping special items close to home so they're always accessible. Suitable for any subject, you can also create memory boxes that focus on family members or even special events – like birthdays or graduations.
Put your favorite memories from your childhood, or the best memories of your grandparents. Maybe keep some pictures of family vacations, or make an art project and include it with things that remind you of specific events.
One idea that I especially love is to fill the box with all kinds of different craft supplies- like fabric scraps, ribbons, trinkets and lace. Then any time you're feeling blue, or need some "me time", just take out the box and spend time crafting something new.
What I really love about this project is that you can do it over and over and still have it turn out differently each time, just by changing up the materials used and the memory you'd like to save.
What should I use for my keepsake box?
I'm usually not one for shopping while I travel, but I have been making it a point to try and find a keepsake box with a design, color and details that will remind me of my time there.
By picking up small boxes at each of your vacation destinations, you can create a collection of truly one of a kind memory boxes that will keep those pictures from simply gathering cyberdust.
I try to take friends along on my travels, or make new ones along the way. This would make an excellent gift to share our travel memories.
What should I use for the picture frame?
I found some pre-printed scrapbooking paper that I really loved for this project. Other ideas for a travel themed box would be to use a souvenir map, museum brochures, subway or bus tickets or even boarding passes!
The size and shape of the pictures frames you use for your wooden memory box DIY project is up to you. Just make sure it's about an inch smaller than your opening so that you don't have issues when pulling the pictures out.
How do you make a memory box?
If you prefer to follow along via video, you can watch my How to Make a Pull Out Style DIY Memory Box for step-by-step visual instructions.
Materials:
I chose a square wooden trinket box, but you could make this project with any shape and size you have.
I pre-cut squares from my chosen background pattern paper that were about 1 inch smaller in size than the interior measurements of my DIY photo box.
Trim and attach your photos to the paper squares that you have cut to fit nicely inside your chosen box.
Once your photos are attached to their frames, lay out your frames in the desired order.
The way I've lined them up here is that the photo on the top will be attached to my focal or pull object so this one will appear first. The photo on the bottom will be at the bottom of the pull stack, last to be seen when pulled from the box.
Using the laid out photos as a guide, measure out the length of twine or rafia needed by doubling the amount from top to bottom.
As shown in the video, what I did was press the end of my rafia about 2 inches below my row of photos, released enough to stop about 2 inches above the row and then turned and went back down to where I started.
You will want to attach your trinket or memory object to the mid-way point of this strand.
As you can see in the video, I tied the key onto the midway point in a simple loop, knotted about 1.5 inches away so that the key has some movement. This also allows for the two strands to lay nicely side by side down your row of photos.
Attach the twine to the back of the frames with transparent tape to secure them together, leaving a small gap between each frame.
This doesn't need to be pretty or perfect. Remember, we are putting backs on this so it will be covered up!
But do try and make the spacing between the frames the same distance. I went with about 1/4 inch spacing.
Choose a back for each frame and glue in place.
I left this side blank, but I like that I can always add more photos later just by gluing them to these empty back sides!
Also be sure to leave a double "tail" at the end like I did in the photo above (about 2 inches) if you think you might like to add more frames and photos later.
It looks cute, but will also allow you to be able to attach more string to these (via knots) so you can add more frames. Just hide your connecting knots by sandwiching them in between your first set of additional frames that you add on.
If you will be giving this as a gift or won't be adding more frames later, you can simply hide the ends of your string in between the last sandwich instead.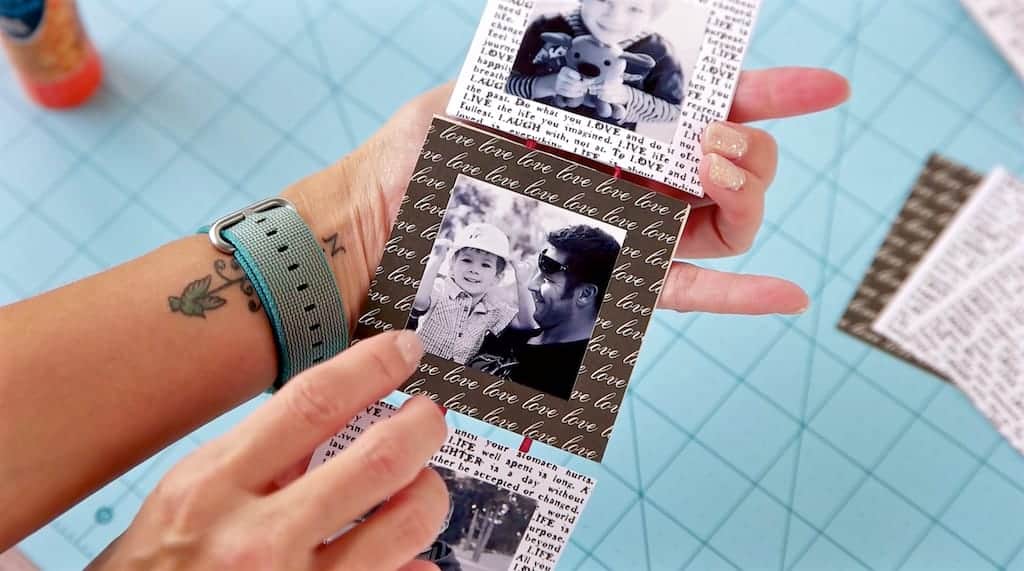 You're almost done! You now have a string of photo frames.
Just fold it like an accordion and place it into your special trinket box.
You can also place other decorative or memory items inside – dried flowers, shells or loose sand from your special destination would be nice.
Set it out to enjoy or wrap it up as a gift.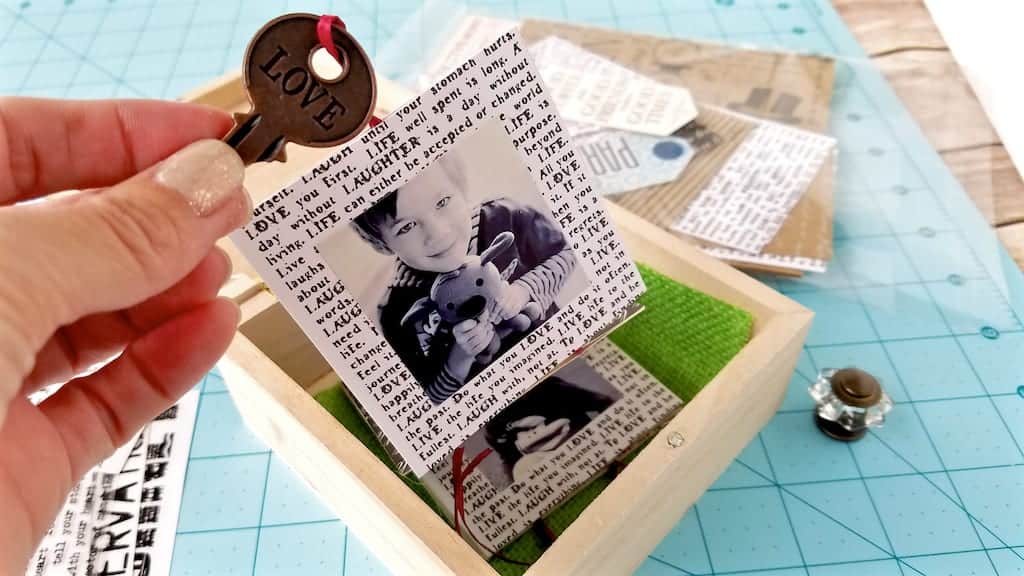 I really liked the unfinished look of the box I used, so I didn't want to add anything else to it, but you could certainly add your own special touches or use items that are specific to the photos.
I've decided that instead of buying random souvenirs from my travels, I will start looking for small trinket boxes that I can use just for this purpose to feature my most favorite photos from that trip!
I'm excited at the prospect of having a beautiful collection of a destination specific photo keepsake box to put on display around my home.
Do you have any more personalized keepsake box ideas you like or have tried?
Other articles you may be interested in
This post was produced in partnership with Alamo Rent a Car.