This post may contain affiliate links. Thank you for your support! For more information, please visit our Privacy Policy.
Frankenstein is one of the most classic Halloween characters. What's not to love about a green monster with stitches? This Halloween, you can make your own Frankenstein pouch out of felt. It's easy and only requires a few supplies. Plus, it's a great way to use up those scraps of felt that are taking up space in your craft closet.
Supplies Needed
Printer and paper
Crafting felt
Matching thread or embroidery floss
Scissors
Glue
Alternate methods
This DIY felt pouch is a quick and easy craft that can be made in so many ways! Feel free to hand sew, use a sewing machine, or just use glue. You can skip the pouch by just using the back panel only, and if you don't have any felt, use colored construction paper instead. The possibilities are endless!
You could even add in a ribbon loop at the top when adding the hair to turn this into a fun Christmas tree ornament where Santa can leave treats or cash for the kids. Get creative and have fun with it!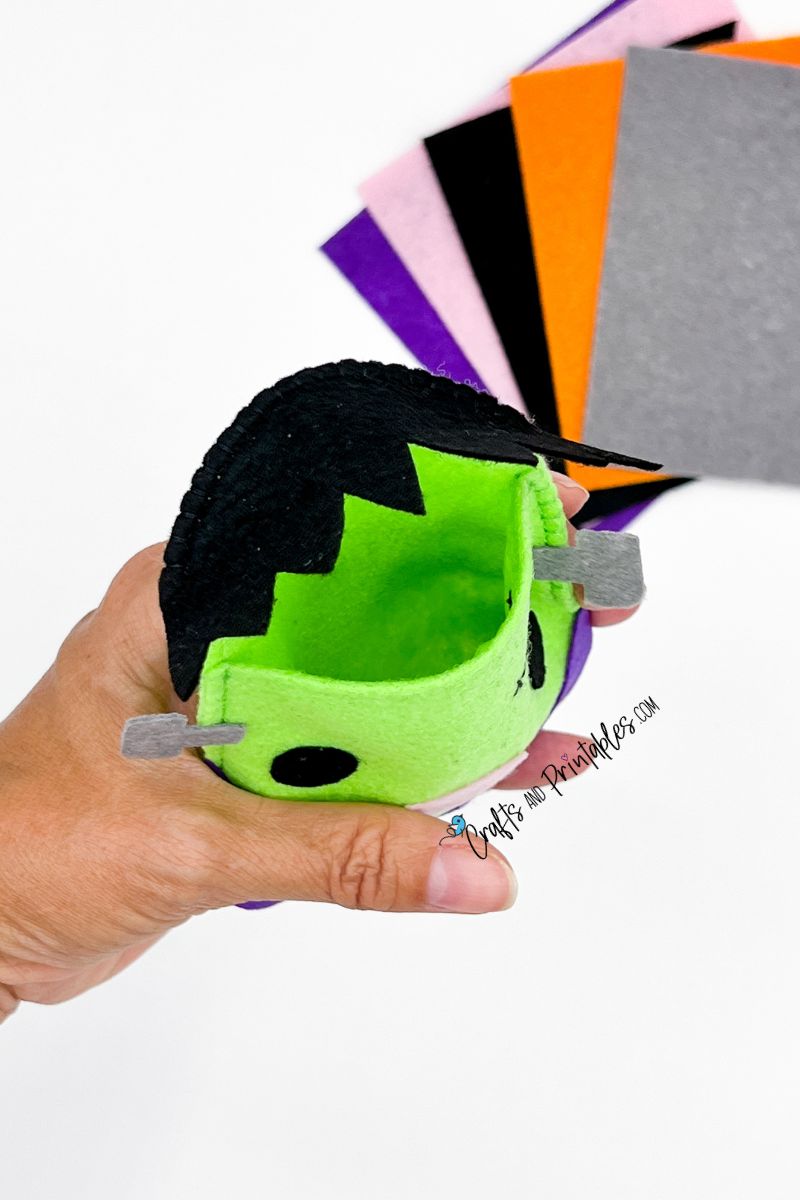 What kind of paper should I use for the pattern?
As with most things crafty, use whatever paper you have or is most convenient for you! Most crafters will print the pattern pieces on a thicker card stock paper. This makes it easier to trace and save for later use.
If all you have is plain white office paper, use that!
Personally, I prefer to print on freezer paper sheets so I can skip a few steps. (more info below)
What is this freezer paper you are using for the pattern pieces and why?
You guys, if you haven't already discovered the secret of use of freezer paper for crafting, then prepared to have your mind BLOWN. If you dislike tracing, having to cut the pattern pieces twice or just want an easier way with less work, then freezer paper is the way to go. This is a huge time saver and helps make accurate pattern pieces a breeze!
I like to use these freezer paper sheets made especially for crafting. You will print your pattern pieces directly onto this sheet – on the paper or matte side. DO NOT try to print on the shiny side.
Then I lazy cut (meaning just anywhere in the white spacing between pattern pieces) the pieces and match them to the felt colors I want them on. Place them SHINY SIDE DOWN paper (printed side UP) and iron. The heat from the iron will make the shiny side stick to the felt.
*WARNING* DO NOT iron the shiny side – it's stick to the iron!!
Now you can fussy/precise cut your pattern pieces from felt. No tracing or fudging with trying to hold the pattern piece in place while you cut. Genius, right? If you are interested in learning more, read our detailed post about using freezer paper for crafts.
How to trace and cut pattern pieces from felt
If you aren't using the freezer paper method above, you still have lots of options for cutting your felt pattern pieces. I got through all the details in my How to Cut Felt Shapes Easily post, but the simplest and most common way is to just print, cut, trace and cut. Easy peasy.
What kind of felt should I use?
Again, use whatever you have on hand! In general there are two types of felt. Inexpensive craft felt is made from synthetic fibers like acrylic or a rayon blend (better than acrylic) and is available in a wide variety of colors. Wool felt is made, well, from wool! It's a bit more expensive than craft felt, but it's also sturdier and less likely to fray.
If you're working on a project that will get a lot of wear and tear, like a toy or something that will be used frequently, I would recommend using wool felt. For most other projects, especially for kids, the inexpensive felt will work just fine.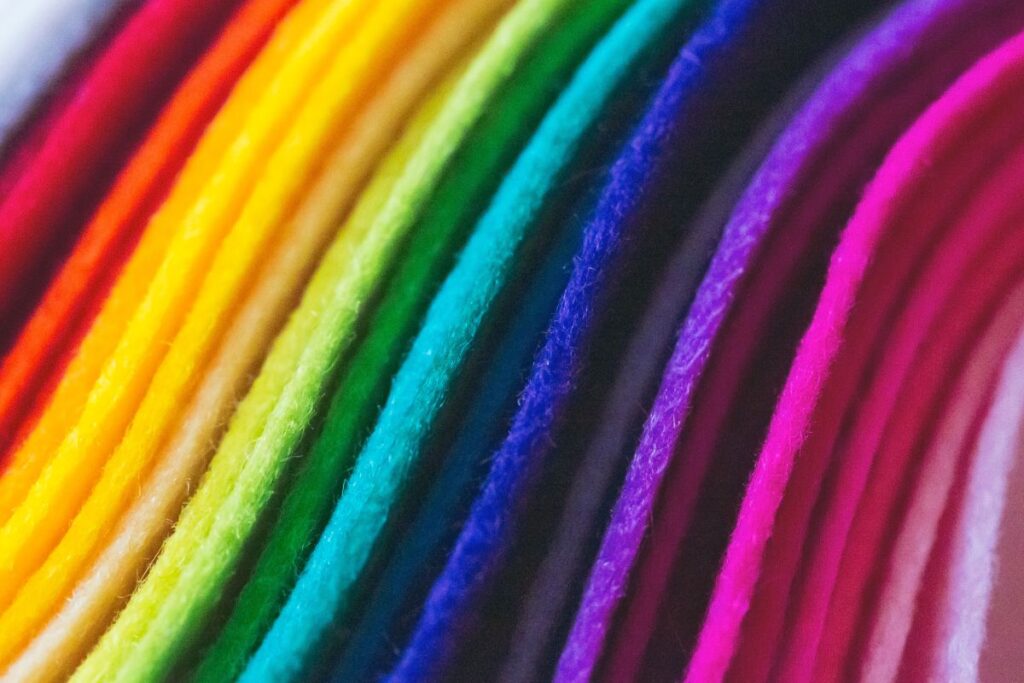 Felt that you can buy by the yard typically tends to be softer, but in my experience is also sort of fuzzy and not great for precision or small projects. Stiff felt, usually sold in sheets, is perfect for details or any project that you need structure.
For this felt Halloween craft, I used soft green felt for the two panel pieces, and this stiffer craft felt for everything else.
*If you're going to use a cutting machine, use a stiffer or higher quality felt. The soft felt is notoriously difficult to work with and may not work at all in your Cricut or Silhouette.
Download the pattern
My felt Frankenstein treat pouch pattern is available for a small fee here. Thank you so much for purchasing – really appreciate it! Your support allows me to continue pay for the expenses associated with running this craft blog and providing you with free crafts and printables from time to time.
Felt Frankenstein Treat Pouch Instructions
My pattern template and instructions have been formatted for standard US Letter sized 8.5" x 11" paper. Just open your program's print window and hit print. In general, you will want to print at 100% (you can check the 1 inch square to be sure), but if you find your printer is cutting off some of pattern pieces on the edges, just choose "fit to page".
Your finished felt Frankenstein pouch will measure about 4.5″ tall and 4″ wide.
Step 1
Print the pattern and cut out felt pieces as indicated.
Step 2
Start by folding back top edge of front panel where indicated (about 1/4 inch) then topstitch in place. *Note that the side showing the folded lip is the WRONG side of this piece and will be hidden inside, facing the back panel piece during assembly.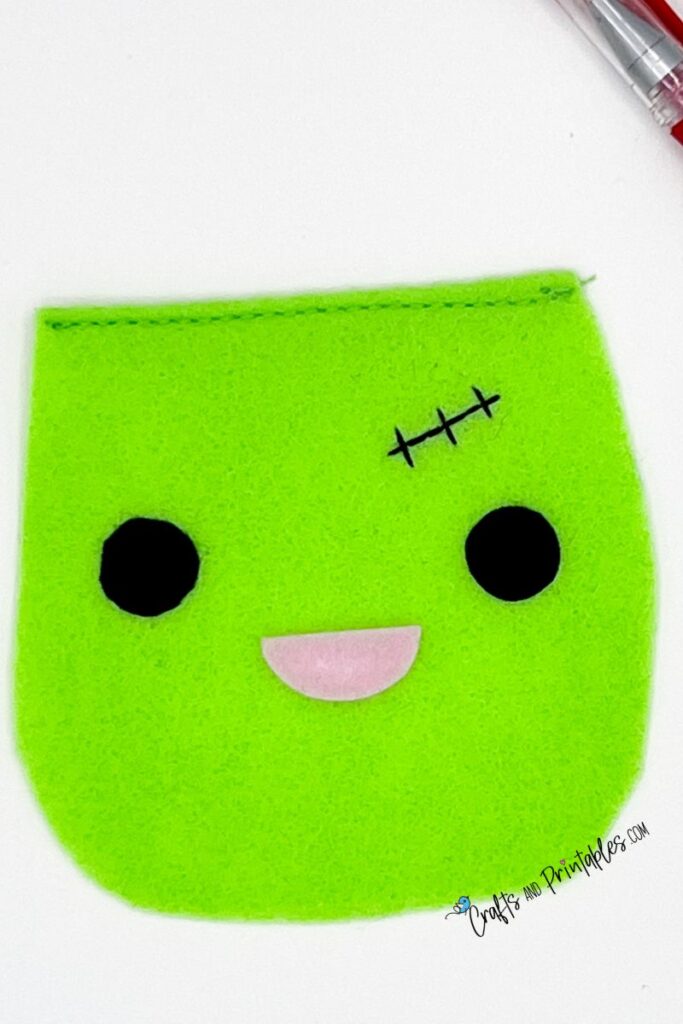 Attach the eyes and mouth to the front panel. You can place them wherever you like, but if you want to copy my design I've marked their placement in red on the front panel template. I suggest cutting the eyes and mouth out of your paper template and using it as a stencil with a heat erasable fabric pen.
I then used fabric glue to attach the eyes and mouth, but you can use a hot glue gun or even sew these on as well. Don't forget to sew the stitches on his forehead too!
Step 4
Attach the patch to shirt with decorative stitching. I just held the patch piece in place with my finger while I added the 8 stitches around.
Step 5
Layer your front panel piece onto the back panel, aligning the bottoms. Sew all along the sides in a big U shape as indicated by the dotted line between the two circles, leaving the middle open to form a pouch. If you are hand sewing this project, I suggest using a blanket stitch.
If you want to use your sewing machine like I did, you may get lucky and find the blanket stitch in your stitch library. This is what the symbol looks like.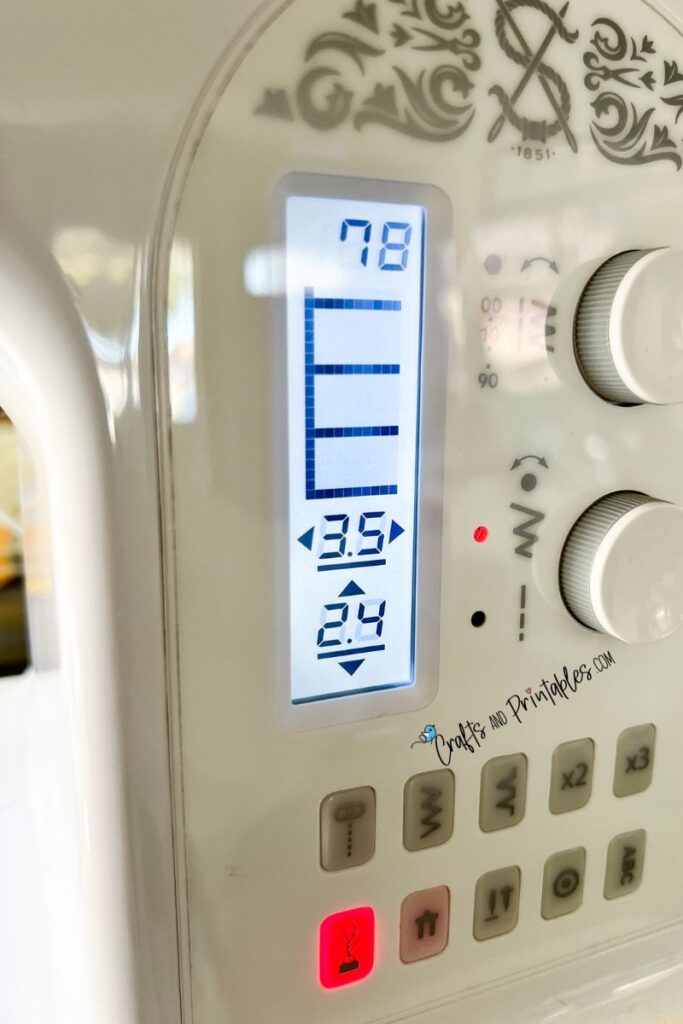 If you don't have this stitch on your machine, just a regular straight stitch will work fine too! I think a stitch length of 3.4-3.6 looks nice on this project.
Step 6
Align hair to the top of back panel and attach by sewing only the top edge, as indicated by dotted line between stars.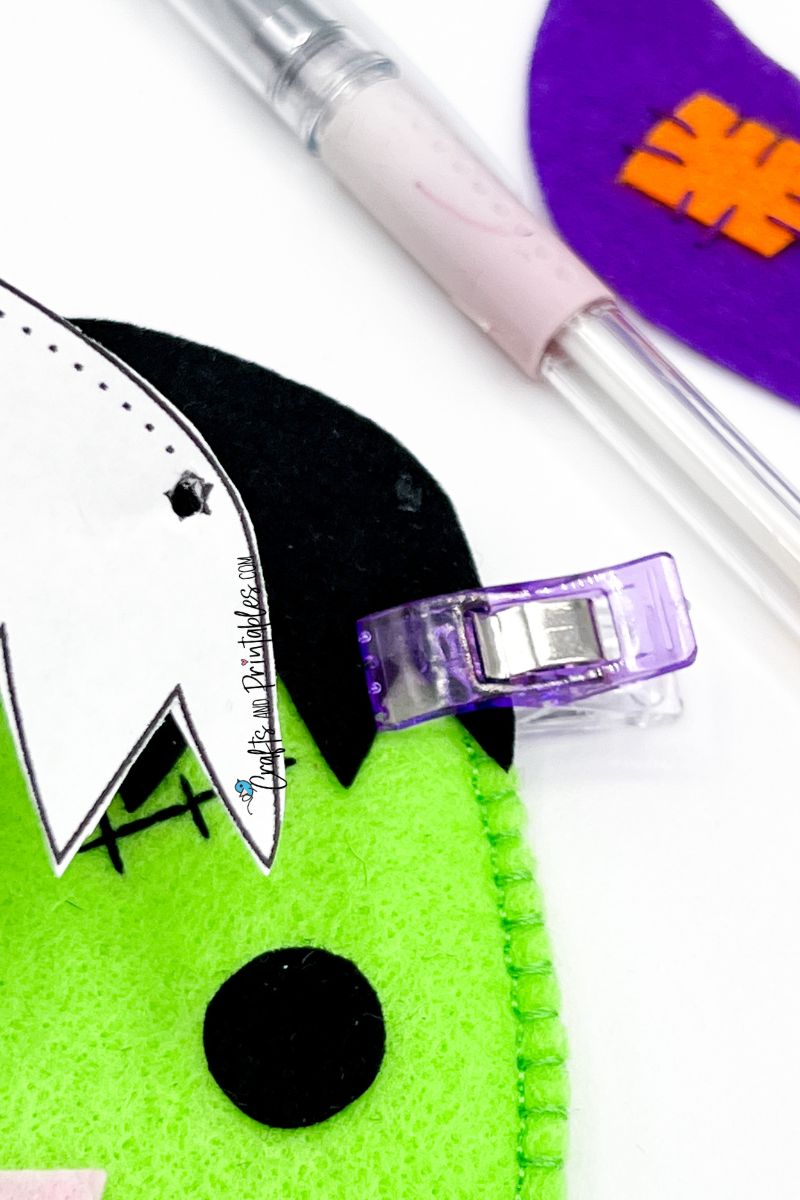 TIP: To make it easier to mark where I needed to start and stop sewing, I just poked holes through my pattern paper on the stars.
Step 7
Align bottom edge of shirt to front panel and attach with glue. Also glue the bolts onto the sides of his head.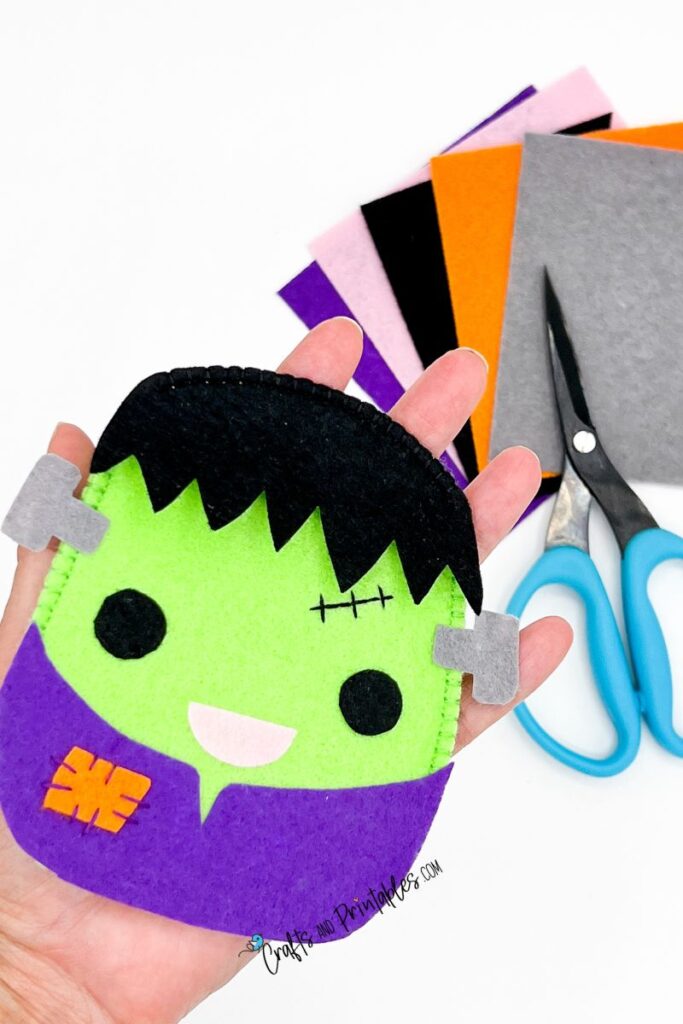 You're all finished! How easy was that? I can't wait to see how you make this craft your own. Please include a picture in your Etsy review or tag us on Instagram @CraftsandPrintables
Interested in some more fun felt crafts?